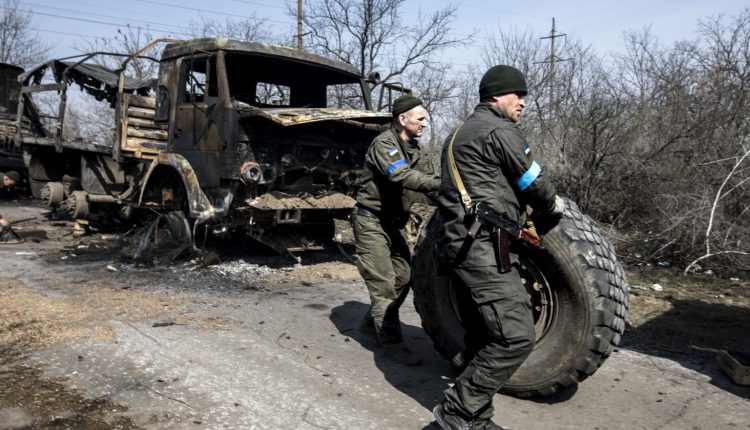 Ukraine under indictment, Amnesty International: operations from homes, hospitals and schools, civilians endangered
Ukraine, Amnesty International spokesman Riccardo Noury: "Defending itself against the Russian offensive does not exempt Kiev from respecting international humanitarian law"
"The fact that you are fighting to defend yourself does not exempt you from respecting the rules of international humanitarian law, especially when you are endangering the lives of the civilians you are trying to defend.
That Ukrainian forces have opened fire from buildings, set their bases in schools or hospitals, while it can in no way justify Russian attacks on civilian targets, is completely unacceptable."
Amnesty International spokesperson Riccardo Noury thus comments on the results of the latest research conducted between April and July in the Kharkiv, Donbass and Mykolaiv regions, which claims that in an attempt to repel the Russian invasion that began in February, Ukrainian forces endangered the civilian population.
This was allegedly done by placing bases and using weapons inside population centres, including in schools and hospitals, and launching attacks from population centres – sometimes from inside civilian buildings – in as many as 19 towns and villages.
These tactics, Amnesty says, violate international humanitarian law because they turn civilian targets into military objectives. The Russian attacks that followed killed civilians and destroyed civilian infrastructure.
UKRAINE, AMNESTY INTERNATIONAL STUDY: SITE VISITS AND INTERVIEWS WITH SURVIVORS
The researchers, the organisation goes on to say, visited the places affected by the attacks, interviewed survivors, witnesses and family members of the victims, analysed the weapons used and carried out further research remotely.
To further validate this evidence, the human rights organisation's Crisis Evidence Lab used satellite images.
Amnesty goes on to clarify that most of the settlements where the Ukrainian soldiers were located were miles away from the front lines and, therefore, there would have been alternatives that could have avoided endangering the civilian population.
Amnesty International is not aware of any cases in which the Ukrainian army which had installed itself in civilian buildings within the settlements asked residents to evacuate the surrounding buildings or provided assistance in doing so. In this way, according to Amnesty, it failed in its duty to take all possible precautions to protect the civilian population.
UKRAINE, THE ACCOUNTS OF WITNESSES IN THE LINES OF AMNESTY INTERNATIONAL
Among the testimonies collected is that of the mother of a 50-year-old man killed by a Russian attack on 10 June in a village south of Mykolaiv.
"The soldiers were staying in a house next to ours and my son often went to them to bring food.
I begged him several times to stay away, I was afraid for him. On the afternoon of the attack I was in the house and he was in the yard.
He died immediately, his body was torn to pieces. Our flat was partially destroyed,' she said.
In the flat where, according to the woman, Ukrainian soldiers had been stationed, Amnesty International found military equipment and uniforms.
Mykola, on the other hand, who lives in a building in Lysychansk, in the Donbass, which has been hit several times by Russian attacks, said: 'I don't understand why our soldiers shoot from the cities and not from the fields'.
A man in the same area told Amnesty further: 'There is military activity here in the district. When there is outgoing fire, immediately afterwards there is incoming fire'.
In a town in the Donbass, on 6 May, Russian forces struck with cluster bombs (banned under international law and indiscriminate) a neighbourhood of mostly one- or two-storey houses where Ukrainian artillery was operating.
The cluster bomb fragments damaged the house where Anna, 70, lives with her 95-year-old mother.
"The shrapnel went through the door. I was inside the house.
The Ukrainian artillery was near my garden. The soldiers were behind the garden and the house.
Since the war started I have seen them come and go.
My mother is paralysed, it is impossible for us to escape'.
At the beginning of July, the researchers report, in the Mykolaiv region, a farmer was injured in an attack by Russian forces on a grain depot.
Hours after the attack, researchers noted the presence of Ukrainian soldiers and military vehicles in the area of the warehouse.
Eyewitnesses confirmed that the facility, located along the road leading to a farm where people live and work, had been used by Ukrainian forces.
UKRAINIAN MILITARY BASES IN HOSPITALS AND SCHOOLS

Amnesty International also reports on military bases inside hospitals and schools: in five different locations, the note continues, researchers saw Ukrainian forces using hospitals as bases.
In two cities dozens of soldiers were resting, walking or eating inside hospital facilities.
In another city, soldiers were shooting near a hospital.
On 28 April, a Russian airstrike killed two employees of a medical laboratory on the outskirts of Kharkiv after Ukrainian forces had set up a base nearby.
Schools were also routinely used. According to researchers, Ukrainian soldiers moved into other schools in certain cities after the Russian bombing, further endangering civilians.
In a town east of Odessa, Amnesty noted on many occasions Ukrainian soldiers using civilian areas for housing and training, including two schools located in densely populated areas.
Between April and June, Russian attacks on schools in the area resulted in several deaths and injuries.
On 28 June, a child and an elderly woman were killed in their home, which was hit by a rocket.
In Bakhmut, on 21 May, an attack by Russian forces hit a university building used as a military base by Ukrainian forces, killing seven soldiers.
The university is adjacent to a multi-storey building, which was damaged in the attack along with other civilian dwellings no more than 50 metres away.
Amnesty International researchers saw the carcass of a military vehicle in the courtyard of the bombed university.
AMNESTY INTERNATIONAL'S APPEAL TO RUSSIA AND UKRAINE: ALL PARTIES MUST PROTECT THE POPULATION
Amnesty concludes by clarifying that the Ukrainian forces' tactic of placing military targets within population centres in no way justifies indiscriminate attacks by the Russians, which are also carried out with weapons prohibited by international law such as cluster bombs.
Finally, it recalls that international humanitarian law calls on all parties to a conflict to do their utmost not to place military targets in or near population centres.
Read Also:
Emergency Live Even More…Live: Download The New Free App Of Your Newspaper For IOS And Android
Ukraine, Spain Delivered 23 Ambulances And SUVs To Ukrainian Border Guards
War In Ukraine, Humanitarian Aid From Italy, Spain And Germany Arrived In Zaporizhia
Saving Lives Despite The War: How The Ambulance System Works In Kiev (VIDEO)
Ukraine: UN And Partners Deliver Aid To The Encircled City Of Sumy
Ukraine Emergency, The Italian Red Cross Returns To Lviv
War In Ukraine, Lviv Region Received Ambulances From Lithuanian Seimas
US Sends 150 Tonnes Of Medicines, Equipment And An Ambulance To Ukraine
Ukraine, Ukrainians From Reggio Emilia And Parma Donate Two Ambulances To The Kamyanets-Podilsky Community
Lviv, A Tonne Of Humanitarian Aid And Ambulances From Spain For Ukraine
Solidarity With Ukraine: Cycling 1,300 Km To Buy A Paediatric Ambulance For Kiev
MSF, "Together We Can Do So Much More": Partnering With Local Organisations In Kharkiv And Throughout Ukraine
UNDP, With Support From Canada, Donated 8 Ambulances To 4 Regional Centres In Ukraine
Source: