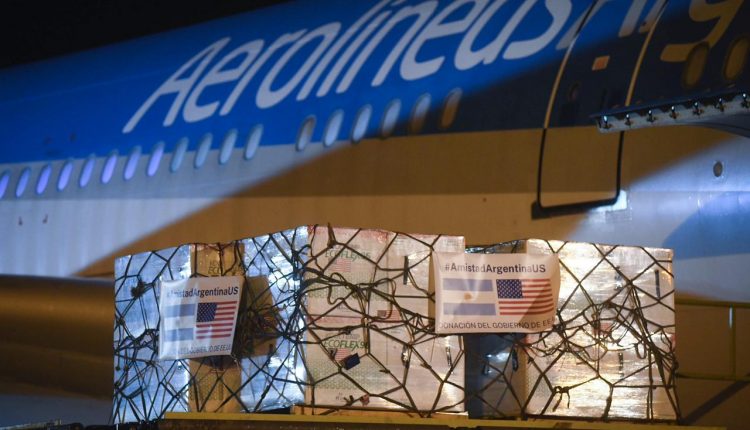 Argentina begins vaccination of adolescents aged 12-17 with priority conditions
Argentina, starts vaccinating adolescents: 901,040 doses of Moderna vaccine begin to be distributed in all jurisdictions of the country
They are part of the total of 3,500,000 doses that have been donated to Argentina by the United States, to start the vaccination scheme of the 12-17 years old population with priority conditions, within the framework of the Strategic Vaccination Plan that the national government is implementing throughout the country.
Argentina, the vaccination corresponding to the 12 to 17 age group includes the following priority conditions:
– Diabetes type 1 or 2.
– Grade 2 (BMI > 35) and grade 3 (BMI > 40) obesity.
– Chronic cardiovascular disease: heart failure, coronary artery disease, valvular heart disease, cardiomyopathy, pulmonary hypertension, congenital heart disease.
– Chronic kidney disease (including chronic dialysis and transplant patients) and nephrotic syndrome.
– Chronic respiratory disease: chronic obstructive pulmonary disease (COPD), cystic fibrosis, interstitial lung disease, severe asthma; oxygen therapy requirements; severe airway disease; asthma-related hospitalisations.
– Liver disease: cirrhosis, autoimmune hepatitis.
– People living with HIV regardless of CD4 and CV.
– Patients on waiting lists for solid organ transplants and haematopoietic cell transplants.
– Oncological and oncohaematological patients with a recent or 'active' diagnosis.
– People with active tuberculosis.
– People with intellectual and developmental disabilities.

– Down's syndrome.
– People with autoimmune diseases and/or immunosuppressive, immunomodulatory or biological treatments.
– Adolescents living in places of long residence.
– Pregnant persons aged 12 to 17 with individual indication.
– Persons with a valid single disability card (CUD).
– Persons with ANSES disability pension even if not in possession of CUD.
– Persons with ANSES transplant pension even if not in possession of CUD.
The distribution criteria for the Moderna vaccine will be based on data from the National Institute of Statistics and Census (INDEC), after the European Medicines Agency (EMA) recommended the corresponding authorisation for its use in people aged between 12 and 17.
So far, 41,833,930 vaccines have arrived, of which 14,000,000 correspond to Sinopharm; 11,868,830 to Sputnik V, (9,375,670 from component 1 and 2,493,160 from component 2); 9,941. 100 to AstraZeneca and Oxford whose active ingredient was produced in Argentina; 3,500,000 to Moderna; 1,944,000 to AstraZeneca through the WHO COVAX mechanism and 580,000 to AstraZeneca-Covishield.
According to the Public Vaccination Observatory, as of this afternoon, 36,182,474 doses of vaccines have been distributed and 30,230,385 have been applied. Of this total, there are 24,096,445 people inoculated with the first dose and 6,133,940 have the full vaccination schedule.
Read Also:
Bomberos In Argentina: History Of The Brigade Of The Voluntarios De La Boca, Buenos Aires
Birth And COVID-19, What Is The Task Of Midwives In Contexts Of Concern And Tension? Some Useful Advice From Argentina
Source: