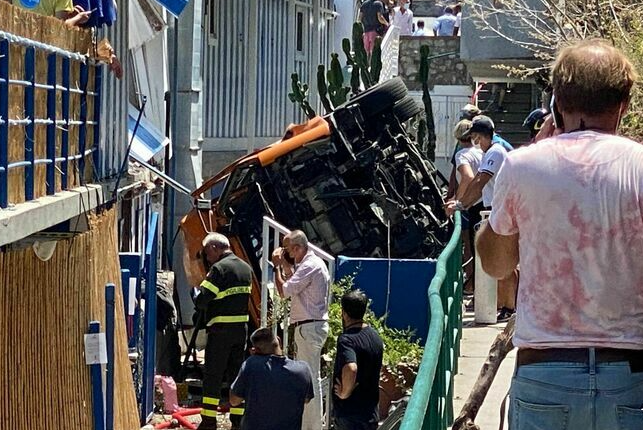 Bus crashes on Capri, one dead and several injured: fire brigade and 118 on duty
Bus crashes on Capri: 11 people on board, one dead. All the injured occupants have been recovered.
A bus fell several metres this morning in Marina Grande, Capri
The accident happened around 11:30 a.m., immediate intervention by the Carabinieri and fire brigade.
The minibus, in which eleven people were travelling, got stuck between the cliff and a structure on a stretch of public beach.
Accident on Capri: all injured occupants recovered
According to local sources, two people were seriously injured in the accident involving a bus that crashed in the Marina Grande area of Capri.
Both have been taken by helicopter to the Ospedale del Mare in Naples.

The other minor injuries – 19, according to the Naples 1 Centro Local Health Authority – were all taken to the local hospital, Capilupi.
Unfortunately, as time passed, the authorities confirmed a death.
Read Also:
What Does An Ambulance Nurse Do In Italy? Definitions, Competences, Skills
China, Devastating Floods In Henan: At Least 25 Dead, 1,800 Firefighters And The Army In Action
Source: