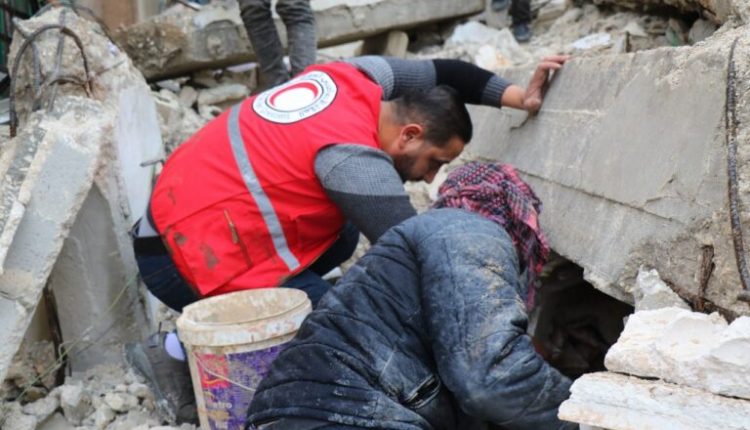 Earthquake in Turkey and Syria, the International Red Cross initiative
IFRC launches international Emergency Appeals for CHF 70 million to respond to deadly earthquake in Türkiye and Syria
The International Federation of Red Cross and Red Crescent Societies (IFRC) is launching Emergency Appeals for CHF 70 million to respond to a deadly 7.4 magnitude earthquake in Türkiye and Syria
The Turkish Red Crescent and Syrian Arab Red Crescent have immediately mobilized to support communities affected: needs are growing minute by minute.
Rescue teams have been reaching hardest-hit areas where survivors remain trapped under rubble.
In Türkiye, teams from the Turkish Red Crescent deployed in ten affected provinces in the south and southeast regions with stocks of food and basic aid items such as tents and blankets to support those injured and evacuated.
Their teams are also providing psychological support, distributing hot meals and sending its national stock of blood and plasma to the affected regions.
In Syria, the Syrian Arab Red Crescent has been responding on the ground since early morning, supporting search and rescue operations, providing first aid, performing emergency medical evacuations and transporting injured people to the hospitals.
A big number of buildings collapsed amidst vulnerable living situations and very harsh weather conditions.
WOULD YOU LIKE TO KNOW MORE ABOUT THE MANY ACTIVITIES OF THE ITALIAN RED CROSS? VISIT THE BOOTH IN EMERGENCY EXPO

Xavier Castellanos, General Secretary of the IFRC, on the earthquake in Syria and Turkey
"This earthquake caused unfathomable damage. Our worst fear is coming true. In this response, every minute counts," said Xavier Castellanos, IFRC Under Secretary General for National Society Development and Operations Coordination.
"The vulnerabilities are coupled on top of harsh winter conditions, making it unbearable for many.
The vulnerable living conditions, particularly in Syria, are even further stretched in a decade-long war.
People who lost their homes and loved ones need our support. We must join forces and do our best to help."
Increased global support and solidarity to deliver humanitarian assistance is essential in the weeks and months of recovery ahead. IFRC will launch two International Appeals, CHF 20 million to support people in Syria with the Syrian Arab Red Crescent and CHF 50 million in Türkiye with the Turkish Red Crescent.
Read Also
Emergency Live Even More…Live: Download The New Free App Of Your Newspaper For IOS And Android

7.9 Magnitude Earthquake Devastates Turkey And Syria: Over 1,300 Dead. New Strong Tremor In The Morning
Territory And Founding Principles In The Future Of The Italian Red Cross: Interview With President Rosario Valastro
Earthquakes And Ruins: How Does An USAR Rescuer Operates? – Brief Interview To Nicola Bortoli
Earthquakes And Natural Disasters: What Do We Mean When We Talk About The 'Triangle Of Life'?
Earthquake Bag, The Essential Emergency Kit In Case Of Disasters: VIDEO
Disaster Emergency Kit: how to realize it
Emergency preparedness for our pets
Earthquake And Loss Of Control: Psychologist Explains The Psychological Risks Of An Earthquake
Earthquake In Indonesia, 5.6 Magnitude Tremor: Over 50 Confirmed Dead And 300 Injured
Panic Attack: What It Is And What The Symptoms Are
Rescuing A Patient With Mental Health Problems: The ALGEE Protocol
Earthquake Bag : What To Include In Your Grab & Go Emergency Kit
How Unprepared Are You For An Earthquake?
Emergency Backpacks: How To Provide A Proper Maintenance? Video And Tips
What Happens In The Brain When There Is An Earthquake? The Psychologist's Advice For Dealing With Fear And Reacting To Trauma
Earthquake and How Jordanian hotels manage safety and security
PTSD: First responders find themselves into Daniel artworks
Source