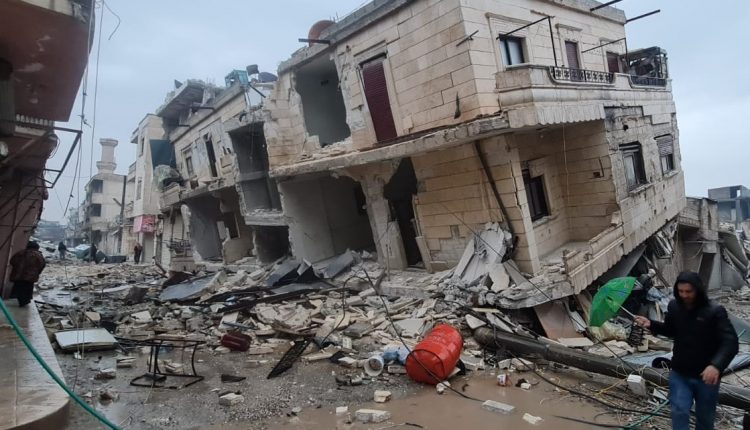 7.9 magnitude earthquake devastates Turkey and Syria: over 1,300 dead. New strong tremor in the morning
Earthquake in Syria and Turkey, epicentre in the Turkish province of Kahramanmaras: the tremor at 2:17 a.m. in Italy was also felt in other countries and a tsunami warning was triggered, which was later cancelled
A 7.9 magnitude earthquake struck eastern Turkey and northern Syria when it was 2.17am in Italy
The quake caused major collapses of many buildings, over 1,300 dead and thousands injured, but the toll is still provisional.
Most of the deaths occurred in Kahramanmaras, the province epicentre of the quake, and particularly in the city of Gaziantep.
Turkey's President Recep Tayyip Erdogan called it 'the strongest earthquake since 1939'.
As for Syria, victims mainly in Hama, Aleppo and Latakia.
Testimonies gathered from these areas report telecommunication blackouts and aftershocks still in progress.
At 11.24 a.m. Italian time, a new tremor, with a magnitude of 7.5, hit the same area.
EARTHQUAKE IN TURKEY AND SYRIA, A NEW STRONG TREMOR OF MAGNITUDE 7.5
A second strong earthquake occurred in Turkey at 11.24 a.m. Italian time in the Elbistan district in the province of Kahramanmaras, about 200 kilometres north of Gazientep, epicentre of the first one of 7.9 that devastated dozens of Turkish cities this morning, as well as in northern neighbouring Syria.
According to the European-Mediterranean Seismological Centre, this new quake registered a magnitude of 7.6, but this would be a preliminary assessment.
Ingv reports a magnitude of 7.5.
After the first one almost 12 hours ago, aftershocks continued to be felt.
The new tremor, like the first, was felt as far away as Syria.
'This was not an aftershock, but a new earthquake'.
So said Orhan Tatar, head of earthquake risk reduction for the National Authority for Disaster and Emergency Management (Afad), relayed by local press sources. The new earthquake caused more buildings to collapse, and it was also necessary to close the airport in Adana, 200 kilometres west of Gazantiep.
THE BALANCE OF THE EARTHQUAKE IN SYRIA AND TURKEY
The death toll of tonight's earthquake has almost tripled in the course of the hours, with a total of 1,200 victims reported by the authorities of the two countries.
Counting also the reports from areas not controlled by the Syrian regime, the dead could exceed 1,300.
Turkish President Racep Tayyip Erdogan said that 912 people have lost their lives, while the injured number 5,383 and that the tally could be higher as rescue efforts continue.
Over 2,000 civilians have already been pulled out of the rubble. President Erdogan added that 45 countries have offered to send aid, clarifying that the earthquake that hit Turkey today is the worst since the one in 1939, which caused over 32,000 casualties.
Gaziantep is the city most affected by the powerful earthquake so far, with numerous buildings damaged or collapsed and roads rendered unusable.
The ancient castle built by the Romans in the third century has also completely collapsed.
According to the international press, many roads and arteries surrounding the epicentre of the earthquake are blocked by vehicles of those trying to leave the area.
As for Syria, the state agency Sana reported 320 dead and a thousand wounded in the provinces of Hama, Aleppo, Latakia and Tartous, but this is only the tally for areas under the control of President Bashar Al-Assad's government.
As for those controlled by the rebels, such as Idlib and Aleppo, there are at least 221 dead and 419 wounded, as reported by the White Helmets, a voluntary relief corps formed during the war that immediately took action this morning, proclaiming a state of emergency.
THE EPICENTRE IN THE TURKISH PROVINCE OF KAHRAMANMARAS
The earthquake was also felt in other countries such as Lebanon, Greece, Cyprus and Israel: there was great fear.
The epicentre of the earthquake was located in the province of Kahramanmaras in south-east Turkey.
The main one was followed by other aftershocks, however very strong.
In south-east Turkey, and particularly in the area of the earthquake epicentre, there is a significant presence of refugees from neighbouring Syria.
According to Afad, the Turkish disaster management agency, at least ten cities have been hit with victims and houses collapsing: Gaziantep, Kahramanmaras, Hatay, Osmaniye, Adiyaman, Malatya, Sanliurfa, Adana, Diyarbakir and Kilis.
Deaths also occurred in Syria: according to the Damascus government, there are dozens of victims in this country as well.
SCHOOLS CLOSED FOR A FORTNIGHT IN TEN PROVINCES
"As of today, classes are suspended for a fortnight in the provinces of Kahramanmaras, Hatay, Adiyaman and Malatya".

This was stated by Turkish Education Minister Mahmut Özer, following the earthquake that struck south-central Turkey in the early hours of the morning.
Shortly after this announcement, the Council for Higher Education announced that schools are also closed in 'Adana, Sanliurfa, Diyarbakir, Gaziantep, Kilis, Osmaniye'.
Students 'will be provided with alternative facilities to take tests and ensure attendance between 6 and 17 February'.
TSUNAMI ALERT RETURNS
After the tremor, a tsunami alert was issued, which also affected Italy, with railway traffic suspended as a precaution in Sicily, Calabria and Apulia. The danger has since been lifted and circulation has returned to normal.
The announcement on the resumption of circulation arrived at around 8 am this morning.
NGO IN SYRIA: "EARTHQUAKE CATASTROPHE ADDS TO EFFECTS OF WAR".
"This umpteenth tragedy adds to the already devastating situation experienced daily in north-west Syria, where one of the most serious humanitarian crises of our century has been unfolding for almost twelve years".
So says Abdulkafi Alhamdo, programme manager of the NGO Still I Rise in North West Syria.
'A population of 4.6 million people live here, 2.9 million of whom are internally displaced,' the activist continues. 'Just under two-thirds of them live in camps, according to data from the United Nations Office for Humanitarian Affairs (OCHA).
Bombings, reprisals and armed conflicts have never stopped and in December 2022, more than 500 cases of cholera were confirmed in north-west Syria, following an epidemic declared a few months earlier.
All this with the total indifference of the international community'.
This earthquake, Alhamdo continues in the statement, 'is a natural catastrophe, but it adds to the devastation in which North West Syria is plunged, making everything even more tragic.
Due to the absence of infrastructure and the bombing of hospitals over the years, social and medical support is almost non-existent.
It is too early to have a final estimate of dead and wounded, but unfortunately – due to the tragic situation this area is already in – we fear very high numbers.
The situation of the Syrians is no longer news, but here simply surviving is a daily challenge'.
Per approfondire
Emergency Live Even More…Live: Download The New Free App Of Your Newspaper For IOS And Android
7.9 Earthquake Devastates Turkey And Syria: Hundreds Dead Tsunami Alert
Earthquakes And Ruins: How Does An USAR Rescuer Operates? – Brief Interview To Nicola Bortoli
Earthquakes And Natural Disasters: What Do We Mean When We Talk About The 'Triangle Of Life'?
Earthquake Bag, The Essential Emergency Kit In Case Of Disasters: VIDEO
Disaster Emergency Kit: how to realize it
Emergency preparedness for our pets
Earthquake And Loss Of Control: Psychologist Explains The Psychological Risks Of An Earthquake
Earthquake In Indonesia, 5.6 Magnitude Tremor: Over 50 Confirmed Dead And 300 Injured
Panic Attack: What It Is And What The Symptoms Are
Rescuing A Patient With Mental Health Problems: The ALGEE Protocol
Earthquake Bag : What To Include In Your Grab & Go Emergency Kit
How Unprepared Are You For An Earthquake?
Emergency Backpacks: How To Provide A Proper Maintenance? Video And Tips
What Happens In The Brain When There Is An Earthquake? The Psychologist's Advice For Dealing With Fear And Reacting To Trauma
Earthquake and How Jordanian hotels manage safety and security
PTSD: First responders find themselves into Daniel artworks
Fonte dell'articolo