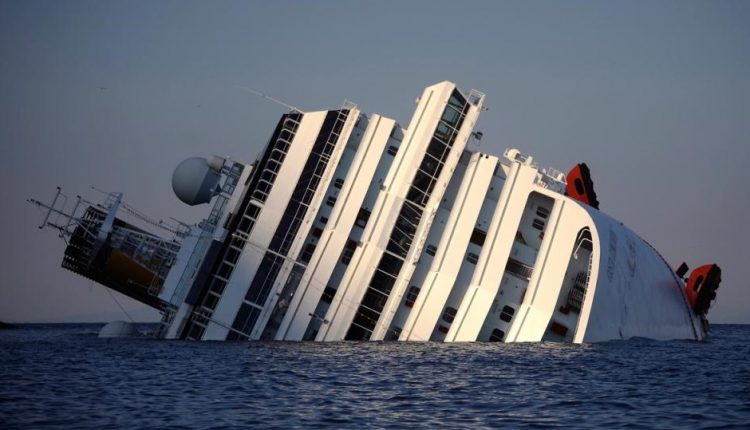 Ten years ago the Costa Concordia tragedy: the memory of Italian rescuers
Ten years ago, the photo of the Costa Concordia half-submerged in front of Giglio Island went around the world. It was the evening of 13 January 2012 when the cruise ship, which had set sail from Civitavecchia and was bound for Savona, crashed into the rocks facing the island in the Tuscan archipelago
The impact caused considerable damage to the vessel: the 4,229 people on board were evacuated, but 32 people died.
Twelve Germans, seven Italians, six French, two Americans and Peruvians, one Spaniard, one Hungarian and one Indian lost their lives, including holidaymakers and crew members.
The sinking of the Costa Concordia was caused by incorrect manoeuvres during the so-called 'bow', a deviation of the route and approach to the mainland to 'greet' the island
Commander Francesco Schettino was given a final sentence of sixteen years for the incident: ten years for manslaughter and culpable injury, five years for shipwreck and one year for abandoning the ship.
In the days following the tragedy, recordings were released of phone calls between Schettino and Captain Gregorio De Falco of the Livorno Port Authority, in which De Falco ordered the captain of the Concordia, who was on a lifeboat, to get back on board to coordinate rescue efforts. In 2018, De Falco was elected senator with the 5 Star Movement and is now part of the Mixed Group. The wreck of the Concordia was recovered in July 2014 and taken to Genoa, where it was scrapped.

Italian rescuers remember the tragedy of the Costa Concordia
"Dayana Arlotti – write the Italian rescue divers -, Williams Arlotti, Elisabeth Bauer, Michael Blemand, Tomás Alberto Costilla Mendoza, Maria D'Introno, Sandor Feher, Horst Galle, Josef Norbert Ganz, Giuseppe Girolamo, Jeanne Gregoire, Pierre Gregoire, Gabriele Grube, Guillermo Gual, Barbara Heil, Gerald Heil, Egon Hoer, Mylène Litzler, Giovanni Masia, Christina Mathi Ganz, Jean-Pierre Micheaud, Margarethe Neth, Russel Terence Rebello, Inge Schall, Margrit Schroeter, Francis Servel, Erika Fani Soria Molina, Siglinde Stumpf, Maria Grazia Trecarichi, Luisa Antonia Virzì, Bruhild Werp and Joseph Werp.

On 13 January 10 years ago, 32 people lost their lives during the Costa Concordia shipwreck. It was 9.45pm when the ship, with over 4,000 people on board, began to take on water and tilted off Giglio Island.
The National Civil Protection system was immediately operational for search and rescue activities.
The Speleological Rescue team was also on site, capable of exploring flooded and complex environments".
Read Also:
Emergency Live Even More…Live: Download The New Free App Of Your Newspaper For IOS And Android
Costa Concordia Re-Floating: LIVE TWEET
Costa Concordia, The Towing Operation LIVE
Source: