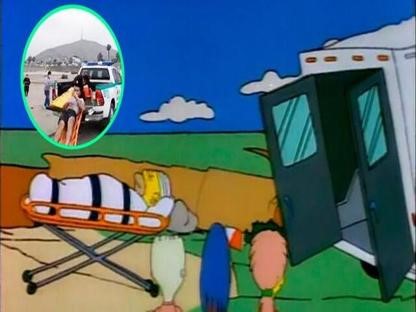 Tragicomic rescue: in Peru, rescuers pick up the patient, but lose him on the road
A tragicomic situation occurred in the port of Chancay, Peru: in the video, which went viral on Twitter, a group of rescuers carry out a humorous rescue exercise
Rescue drill in Peru: good but not great
A rescue drill is taking place on the beach of the port of Chancay, in the Peruvian province of Huaral.
In the video, which has gone viral on social media, rescuers are seen loading a wounded man into a pick-up truck.
Once the injured man is loaded, they set off. But the departure was too sudden, and did not include the closing of the rear door of the rescue vehicle.
The patient flew out of the vehicle, similar to what happened to Homer in an episode of The Simpsons.
THE MOST SUITABLE STRETCHERS FOR EACH TYPE OF OPERATION? VISIT SPENCER'S BOOTH AT EMERGENCY EXPO
The light tone is allowed by the fact that the unfortunate actor who took part in the exercise did not suffer any major consequences.

— Perú Out Of Context (@OutPeru) November 18, 2021
Read Also:
Scotland, University Of Edinburgh Researchers Develop Microwave Ambulance Sterilisation Process
Emergency Museum: Australia, The Ambulance Victoria Museum
Emergency Museum / Germany, The Berlin Feuerwerhmuseum
Emergency Museum, England: The Ambulance Heritage Society
Source: