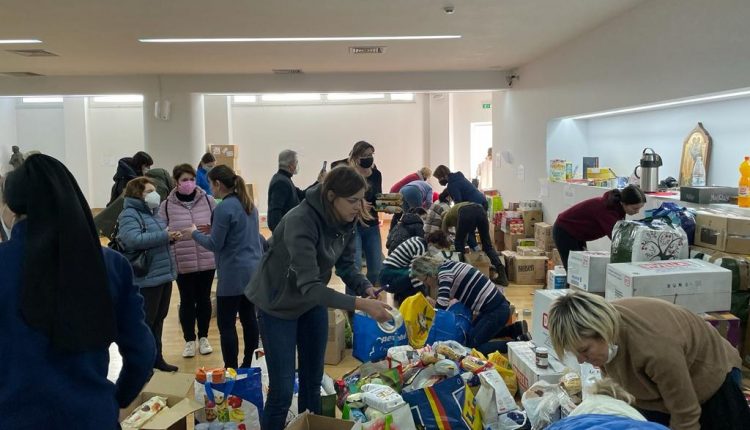 UN: "Ukraine at risk of siege, let's bring food before it's too late"
UN WFP on the aggression against Ukraine: "In Kiev, Kharkiv and Dnipro, 7,000 tonnes have arrived in the country"
The United Nations World Food Programme (WFP) is engaged in a "race against time to supply food to cities that risk being surrounded" by Russian armed forces, while the food distribution chain in the country "is collapsing".
This was reported by Jakob Kern, emergency coordinator in Ukraine for the UN agency
The UN executive reported that the PAM is trying to "get stocks into warehouses in Ukrainian cities such as the capital Kiev, Kharkiv and Dnipro before it is too late".
The aid agency's vehicles have not been able to reach Sumym in the north-east and Mariupol, a south-eastern port on the Black Sea, which has been under Russian siege for days, but will 'take advantage of any ceasefire to bring foodstuffs to the city'.
To date, according to the figures released by Kern, "7,000 tonnes of foodstuffs are already in Ukraine, another 7,000 tonnes are on the way, while agreements have been signed for a further 55,000 tonnes".
The UN agency's aim is to reach 3.15 million cpeople in Ukraine with its aid
To do this, the PAM aims to collect 570 million dollars.
According to Pam, however, one of the knots to be solved is the transport of this food to the cities that need it, given the fear of indiscriminate attacks.
Fears that would find confirmation in the denunciation of the director general of the World Health Organisation (WHO), Tedros Adhanom Ghebreyesus, who speaking today at the UN Security Council reported 43 attacks on health facilities since the start of the conflict three weeks ago, with at least 12 victims.
The director did not specify responsibility for the raids.
Read Also:
Emergency Live Even More…Live: Download The New Free App Of Your Newspaper For IOS And Android
Ukraine Crisis, Firefighters Working Across Kiev To Put Out Bombing Fires
Ukrainian Crisis: Kharkiv, Rescue Driver Saves Two People From The Rubble Of A House
Ukrainian Crisis: Falck Donates 30 Ambulances To Support In Ukraine, Moldova, And Poland
Odessa, Twin City Marseille Sends Two More Ambulances To Bombed-Out Ukraine
Aggression In Ukraine: Poland Transferred Three Ambulances To Dnipro
Seven Ambulances Donated To Moldova Through The European Union Civil Protection Mechanism
War In Ukraine, Ambulance Fitters On The Front Line: Validus Sends Emergency Vehicles To Kiev, Cherkasy And Dnieper
War In Ukraine, Battered Poltava Receives Five Ambulances, Medicines And Food From UK
Ukraine, Denmark Donates 18 Ambulances: Supplied With Medicines And Medical Equipment In Lviv, They Were Sent To Kharkiv
Magirus Renounces Interschutz 2022: 'Planned Investment Will Go To Ukraine's Fire Brigade' / VIDEO
Source: