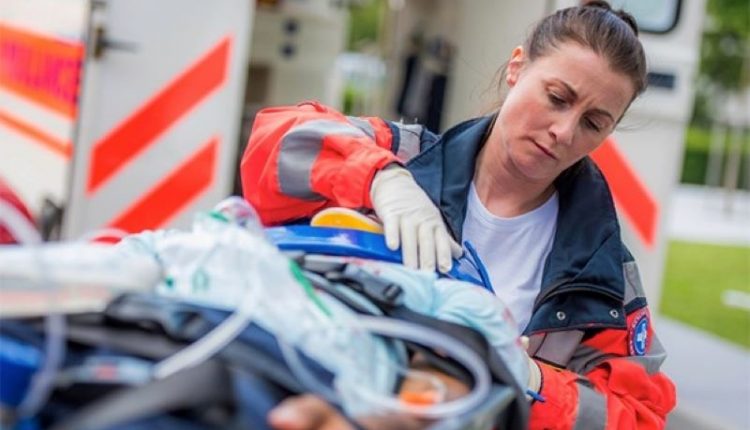 Ambulance: what is an emergency aspirator and when should it be used?
An essential piece of equipment in an ambulance is the aspirator: its primary function is to clear and maintain the patient's airway
An aspirator facilitates rapid suction of patients in an emergency
Instead of relying on traditional wall suction, an emergency aspirator uses a rechargeable battery.
This allows caregivers to attend to patients wherever they are, without having to delay treatment for transport.
STRETCHERS, LUNG VENTILATORS, EVACUATION CHAIRS: SPENCER PRODUCTS ON THE DOUBLE BOOTH AT EMERGENCY EXPO
An emergency aspirator is an essential part of an ambulance's toolkit
There are no absolute contraindications to the use of this tool, which can reduce morbidity and mortality in a range of respiratory emergencies.
Despite this, some rescuers are reluctant to aspirate patients who are not in an emergency or obvious crisis situation.
This reluctance can cost patients their lives.
CARDIOPROTECTION AND CARDIOPULMONARY RESUSCITATION? VISIT THE EMD112 BOOTH AT EMERGENCY EXPO NOW TO LEARN MORE
Here are some of the most common scenarios in which emergency resuscitation can help save lives
Sudden inability to clear the airway
Numerous conditions, from neurological injuries to respiratory trauma, can make it difficult for a patient to clear their airway.
This increases the risk of aspiration, infection and other serious problems.
When a patient has a hoarse cough, a hoarse voice or says that breathing is difficult and cannot clear the airway, an emergency aspirator can help.
Aspiration pneumonia
Aspiration pneumonia is a serious medical emergency that causes the death of at least 5% of people hospitalised for this condition.
It is essential to suction patients who show signs of aspiration, such as continuous vomiting or bleeding from the airways.
Aspirators can also help prevent aspiration in high-risk patients, such as those with dysphagia, spinal cord injury or a recent drowning episode.
THE IMPORTANCE OF TRAINING IN RESCUE: VISIT THE SQUICCIARINI RESCUE BOOTH AND FIND OUT HOW TO BE PREPARED FOR AN EMERGENCY
Suspected or confirmed airway obstruction
Aspirators are also the quickest option for clearing an airway obstruction.
Transferring the patient to a hospital room with a wall-mounted suction unit wastes valuable time.
If the patient cannot breathe, he or she may suffer severe brain damage.
An emergency aspirator allows the obstruction to be removed without unnecessary delay.
Ventilated patients
Ventilated patients need frequent suctioning, even when ventilator waveform changes occur or when the ventilator shows changes in pressure or volume.
First responders in long-term care facilities or nursing homes where patients use ventilators can respond more quickly to the needs of these patients if they use aspirators.
Emergency suctioning may even eliminate the need to transport the patient.
This can improve outcomes in ventilated, medically fragile patients for whom transport can be stressful and increase the risk of exposure to harmful pathogens.
Surgical suctioning
Surgical suctioning reduces the risk of aspiration and allows rapid intervention in the unlikely event that the patient aspirates.
Emergency suction units can help a wide range of medical practices, including dental practices and ambulatory surgical centres, to be better prepared with the right suction equipment, and can also enable large hospitals to take care of multiple patients at the same time.

The right emergency aspirator ensures consistent and safe suction for every patient treated.
It is not enough to put an aspirator in the emergency kit: you need a quality unit that can consistently provide exceptional suction.
The health of the patient is, when you think about it, the right suction for the rescuer.
Read Also:
Emergency Live Even More…Live: Download The New Free App Of Your Newspaper For IOS And Android
The Purpose Of Suctioning Patients During Sedation
Supplemental Oxygen: Cylinders And Ventilation Supports In The USA
Basic Airway Assessment: An Overview
Respiratory Distress: What Are The Signs Of Respiratory Distress In Newborns?
EDU: Directional Tip Suction Catheter
Suction Unit For Emergency Care, The Solution In A Nutshell: Spencer JET
Airway Management After A Road Accident: An Overview
Tracheal Intubation: When, How And Why To Create An Artificial Airway For The Patient
What Is Transient Tachypnoea Of The Newborn, Or Neonatal Wet Lung Syndrome?
Traumatic Pneumothorax: Symptoms, Diagnosis And Treatment
Diagnosis Of Tension Pneumothorax In The Field: Suction Or Blowing?
Pneumothorax And Pneumomediastinum: Rescuing The Patient With Pulmonary Barotrauma
ABC, ABCD And ABCDE Rule In Emergency Medicine: What The Rescuer Must Do
Multiple Rib Fracture, Flail Chest (Rib Volet) And Pneumothorax: An Overview
Internal Haemorrhage: Definition, Causes, Symptoms, Diagnosis, Severity, Treatment
Difference Between AMBU Balloon And Breathing Ball Emergency: Advantages And Disadvantages Of Two Essential Devices
Assessment Of Ventilation, Respiration, And Oxygenation (Breathing)
Oxygen-Ozone Therapy: For Which Pathologies Is It Indicated?
Difference Between Mechanical Ventilation And Oxygen Therapy
Hyperbaric Oxygen In The Wound Healing Process
Venous Thrombosis: From Symptoms To New Drugs
Prehospital Intravenous Access And Fluid Resuscitation In Severe Sepsis: An Observational Cohort Study
What Is Intravenous Cannulation (IV)? The 15 Steps Of The Procedure
Nasal Cannula For Oxygen Therapy: What It Is, How It Is Made, When To Use It
Nasal Probe For Oxygen Therapy: What It Is, How It Is Made, When To Use It
Oxygen Reducer: Principle Of Operation, Application
How To Choose Medical Suction Device?
Source: