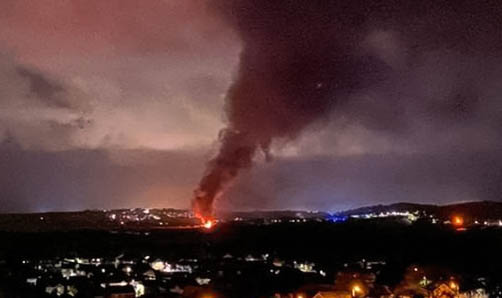 Mass evacuation in Wales: a train carrying diesel in fire
Wales, in fire train carrying diesel. Rescue operations concluded at dawn
The evacuation and rescue of citizens is one of the cornerstones of the rescuer training in Civil Protection operations in major emergencies. And what happened tonight in Wales, in this sense, is narrative.
Fire freight train: mass evacuation in Wales, rescue by emergency teams
A huge fire on a freight train carrying diesel caused a mass evacuation in the middle of the night in South Wales.
Two conductors of the train escaped unharmed as a number of carriages derailed and caught fire while three cars were set on fire.
Emergency teams were transported to Llangennech, near Llanelli, and nearby houses were forced to evacuate as flames and giant columns of black smoke rose into the sky.
The accident at 23 local, mass evacuation and rescue of citizens throughout the night
A serious incident was reported after the fire was reported at 11:20 p.m., with officers going door to door within an 800 meter exclusion zone, asking people to move to nearby Bryn School and Llangennech community center.
People were allowed to return to their homes after 5 am.