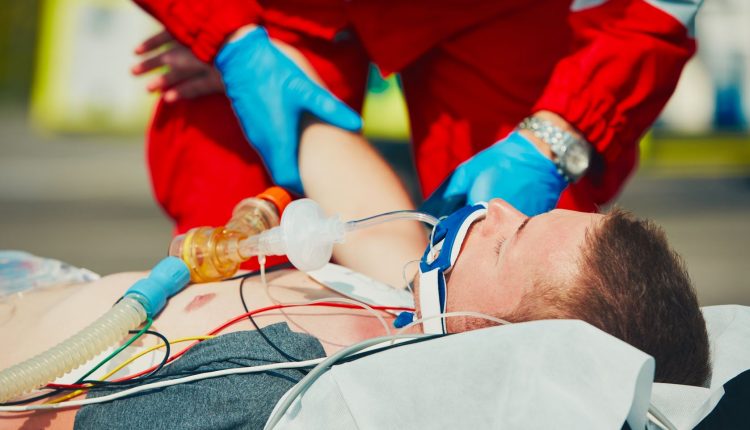 Benefits and Risks of Prehospital Drug Assisted Airway Management (DAAM)
About DAAM: Airway management is a necessary intervention in many patient emergencies — from airway compromise to respiratory failure and cardiac arrest
However, depending on how severe the patient's condition is, and the invasiveness of the intervention, airway management often causes negative effects to patients' mental and physical health.
In certain prehospital scenarios, patients sometimes benefit from Drug Assisted Airway Management (DAAM), which can offer improved laryngoscopy for providers and easier insertion of endotracheal tubes and supraglottic airways during intubation.
To provide the most effective and safe treatment possible for patients, EMS providers must be aware of DAAM's benefits and how to effectively perform it, as well as the significant risks associated with it.
STRETCHERS, LUNG VENTILATORS, EVACUATION CHAIRS: SPENCER PRODUCTS ON THE DOUBLE BOOTH AT EMERGENCY EXPO
What is DAAM?
According to a resource document from the National Association of EMS Physicians (USA), Drug Assisted Airway Management (DAAM) refers to the administration of sedatives alone, or in combination with neuromuscular blockers, to initiate advanced airway placement in patients with compromised airways or impending respiratory failure, who may also suffer from altered mental status, agitation or intact protective airway reflexes.
Current variations of DAAM that are commonly used in clinical prehospital settings include sedation-assisted intubation (SAI), delayed sequence intubation (DSI) and rapid sequence intubation (RSI).
RSI, the most common of the three, involves the administration of a sedative and a paralytic for endotracheal intubation in patients.
THE IMPORTANCE OF TRAINING IN RESCUE: VISIT THE SQUICCIARINI RESCUE BOOTH AND FIND OUT HOW TO BE PREPARED FOR AN EMERGENCY
Scenarios in which DAAM may be warranted
Some emergencies that may require DAAM include stroke, traumatic brain injury (TBI) and respiratory failure from pulmonary or cardiac disease.
DAAM should only be performed in adequate settings in which the proper resources and guidelines are in place, and sufficient training and EMS physician oversight is available.
Providers must carefully weigh the potential clinical gains against the adverse risks of DAAM
Despite a patient's condition, before performing DAAM, EMS agencies must ensure providers have undergone the thorough training necessary to manage patients in compromised circumstances, including during and after the potential failure of DAAM, and that they have the necessary equipment on-hand to administer medication and intubate as safely and successfully as possible.
Some of the tools and methods necessary to perform DAAM include bag mask ventilation, supraglottic airway devices and surgical airway approaches.
CARDIOPROTECTION AND CARDIOPULMONARY RESUSCITATION? VISIT THE EMD112 BOOTH AT EMERGENCY EXPO NOW TO LEARN MORE
Knowing the risks
The level of risk associated with performing DAAM depends on several factors related to the patient's profile, condition and needs, as well as the level of experience and preparedness on the part of the providers.
Prior to intubation, it's critical that providers conduct a physical assessment of the patient to thoroughly understand the risk/benefit ratio of performing DAAM, as opposed to rapid sequence intubation or non-invasive ventilation alternatives.
During the assessment, providers should look for any signs that indicate the possibility of difficult intubation, such as the presence of upper front teeth, history of difficult intubation, any Mallampati score different from one or equal to four, and a mouth opening less than 4 centimeters.
Higher risks are also associated with difficult patient airway characteristics, such as extremes of airway size, neck immobility, restricted mouth opening, soiled airway and bleeding.
Additionally, if performed incorrectly, DAAM can cause further challenges for airway insertion due to a rapid and complete loss of protective airway reflexes and respiratory drive, and the potential for medications to worsen patients' existing physiologic abnormalities.
Making an informed decision
While there are various prehospital care scenarios that may warrant the use of DAAM, like circumstances in which patients are experiencing compromised mental conditions or are suffering from medical crises that may result in respiratory failure, DAAM also poses significant risks for patients.
It's vital that EMS providers are aware of these risks and how they differ from patient to patient, and that they are equipped with the proper training and resources to mitigate risks as much as possible when treating patients.
Read Also
Emergency Live Even More…Live: Download The New Free App Of Your Newspaper For IOS And Android
Three Everyday Practices To Keep Your Ventilator Patients Safe
Ambulance: What Is An Emergency Aspirator And When Should It Be Used?
The Purpose Of Suctioning Patients During Sedation
Supplemental Oxygen: Cylinders And Ventilation Supports In The USA

Basic Airway Assessment: An Overview
Respiratory Distress: What Are The Signs Of Respiratory Distress In Newborns?
EDU: Directional Tip Suction Catheter
Suction Unit For Emergency Care, The Solution In A Nutshell: Spencer JET
Airway Management After A Road Accident: An Overview
Tracheal Intubation: When, How And Why To Create An Artificial Airway For The Patient
What Is Transient Tachypnoea Of The Newborn, Or Neonatal Wet Lung Syndrome?
Traumatic Pneumothorax: Symptoms, Diagnosis And Treatment
Diagnosis Of Tension Pneumothorax In The Field: Suction Or Blowing?
Pneumothorax And Pneumomediastinum: Rescuing The Patient With Pulmonary Barotrauma
ABC, ABCD And ABCDE Rule In Emergency Medicine: What The Rescuer Must Do
Multiple Rib Fracture, Flail Chest (Rib Volet) And Pneumothorax: An Overview
Internal Haemorrhage: Definition, Causes, Symptoms, Diagnosis, Severity, Treatment
Difference Between AMBU Balloon And Breathing Ball Emergency: Advantages And Disadvantages Of Two Essential Devices
Assessment Of Ventilation, Respiration, And Oxygenation (Breathing)
Oxygen-Ozone Therapy: For Which Pathologies Is It Indicated?
Difference Between Mechanical Ventilation And Oxygen Therapy
Hyperbaric Oxygen In The Wound Healing Process
Venous Thrombosis: From Symptoms To New Drugs
Prehospital Intravenous Access And Fluid Resuscitation In Severe Sepsis: An Observational Cohort Study
What Is Intravenous Cannulation (IV)? The 15 Steps Of The Procedure
Nasal Cannula For Oxygen Therapy: What It Is, How It Is Made, When To Use It
Nasal Probe For Oxygen Therapy: What It Is, How It Is Made, When To Use It
Oxygen Reducer: Principle Of Operation, Application
How To Choose Medical Suction Device?
Holter Monitor: How Does It Work And When Is It Needed?
What Is Patient Pressure Management? An Overview
Head Up Tilt Test, How The Test That Investigates The Causes Of Vagal Syncope Works
Cardiac Syncope: What It Is, How It Is Diagnosed And Who It Affects
Cardiac Holter, The Characteristics Of The 24-Hour Electrocardiogram
Source