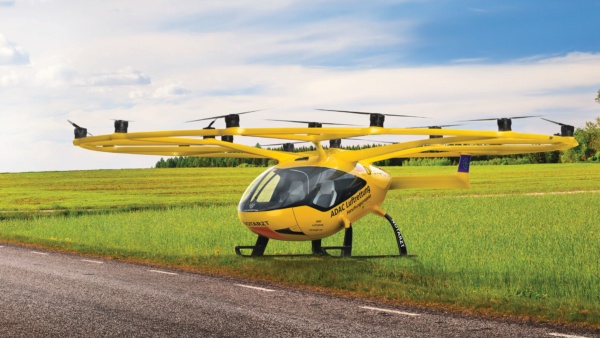 Hems, Germany ADAC Luftrettung publishes multicopter study / PDF
Ambulance drone or helicopter? The solution could be the multicopter with rescue operator German rescue service ADAC Luftrettung published a study that shows multicopter rescue is feasible and could free up the rescue helicopter for other tasks
Air rescue with manned multicopters is possible, sensible, and improves the emergency medical care of the population, according to the feasibility study on the use of manned multicopters in the rescue service.
The roughly 130-page study was initiated at the end of 2018 by ADAC Luftrettung.
The multicopter is expressly not intended to replace the rescue helicopter, but rather to supplement rapid help from the air.
Patient transport is not initially planned.
HEMS, multicopter study
According to the study, significant improvements for emergency care result from multicopters in an operational radius of 25 to 30 kms.
In this case, the optimal flight speed of the multicopter should be 100 to 150 km/h. The study foresees these ideal conditions being technically possible in about four years.
With the appropriate multicopters, emergency doctors can not only be on the scene faster, but also reach significantly more patients in a larger area.
This makes the work of doctors more effective, and the multicopter an effective weapon in the fight against the shortage of emergency doctors that is prevalent in many places.

Dr. Andrea David, Chairman of the ADAC Foundation, said: "The increasing shortage of emergency doctors is a major challenge for the emergency medical care of the population – especially in rural areas.
That is why the ADAC Foundation supported this innovative research project conceptually and financially from the start.
"We are now looking forward to the practical test with excitement. Because the results of the scientific study make it clear that manned multicopters, as fast emergency doctor deliverers, can help to solve this serious problem soon."
The project to integrate the multicopter into ADAC's rescue procedures will start in 2023 and should take place in two regions: in Bavaria in the Ansbach rescue service area at the ADAC air rescue station in Dinkelsbühl, Rhineland-Palatinate, in a new purely multirotor location in the Idar-Oberstein region.
Multicopter, the publication on HEMS
Multikopter_im_Rettungsdienst_-_Machbarkeitsstudie_-_ADAC_Luftrettung

Read Also:
Ambular, The New Flying Ambulance Project For Emergency Medical Missions
Source: