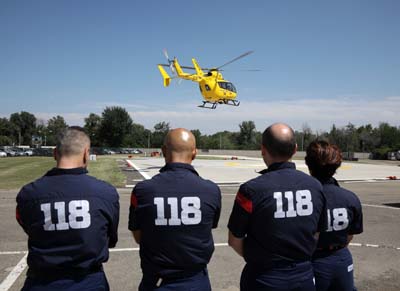 Italy, Bologna's helicopter rescue service turns 35: "And we're going to get even better".
Helicopter rescue in Bologna (Italy) celebrates its 35th birthday: since June 1986, 30,000 missions have been carried out, including the Salvemini tragedy, Ayrton Senna's accident at Imola and the tanker truck explosion in Borgo Panigale
Thirty-five years have passed since the first rescue helicopter responded to a car accident on the A1 in June 1986. Since then, some 30,000 missions have been carried out, including on the occasion of events that have marked Bologna's recent history, from the Salvemini tragedy to Ayrton Senna's accident at Imola, and the tanker truck explosion at Borgo Panigale on 6 August 2018.
The best helicopter rescue equipment? Visit the Northwall stand at Emergency Expo
35 years, how Bologna's helicopter rescue service has changed
In the meantime, the service has grown: for the past four years, the use of the helicopter rescue service has been extended to 24 hours: night-time operations, which until August 2019 were limited to the use of 17 illuminated aprons, now have 387 landing areas.
And for the immediate future, there are hopes for further technological improvements to make interventions even more timely and 'closer' to the citizen.
"We are committed to further strengthening the helicopter rescue service, because it really is a life-saving service," emphasises Regional Health Councillor Raffaele Donini, who speaks of a "great intuition" on the part of the protagonists at the time.

The anniversary of the 118, which is based on the platform on the fifteenth floor of the Maggiore hospital, was celebrated today with the presentation of that experience, between past and future, in the main hall of the Bolognese hospital, with the testimony of doctors, 118 operators and also of the patients saved by the helicopter-ambulance.
"It was definitely a winning solution," says Ausl director general Paolo Bordon. "Women and men, professionals of the highest level, believed that the helicopter could be an ordinary tool for managing emergency situations.
Read Also:
Search And Rescue Operations And More: The 15th Wing Of The Italian Air Force Celebrates Its 90th Birthday
HEMS, Germany's First Biofuel Rescue Helicopter At ADAC Luftrettung
Source: