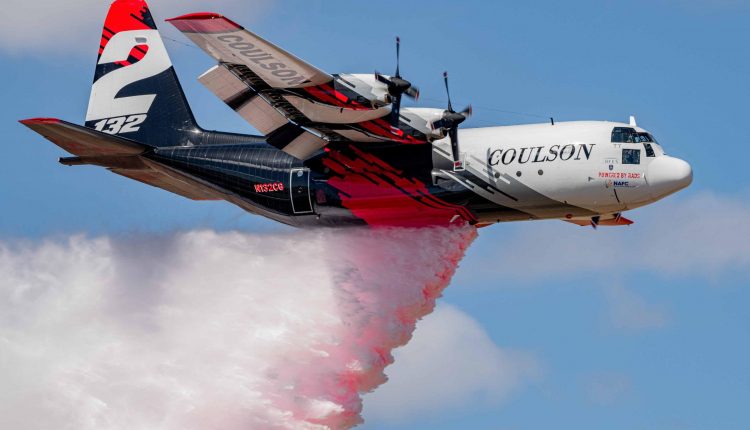 Coulson Aviation Secures C-130H Hercules Airtanker Four-Year Firefighting Contract in Western Australia
Port Alberni, B.C. – Coulson Aviation is excited to announce it has been awarded a four-year firefighting contract with the Western Australia government for a C-130H Hercules Airtanker
The aircraft is already on its way to Australia from the U.S.
THERMAL IMAGING CAMERAS FOR SAFE FIRE MANAGEMENT: VISIT THE HIKMICRO BOOTH AT EMERGENCY EXPO
Coulson Aviation Australia CEO, Britt Coulson
"Coulson is proud to continue to support Western Australia with our C-130, which will be one of the key assets supporting the rapidly approaching and potentially devastating bushfire season," said Coulson Aviation Australia CEO Britt Coulson.
"Western Australia is like a second home for this aircraft. It was the first place the airplane fought fire after we converted it and we're pleased to see it return to its proving grounds." said Britt.
Built by Lockheed Martin, the C-130 Hercules is a four-engine turboprop military transport aircraft.
THE BEST EQUIPMENT FOR HEMS OPERATIONS? VISIT THE NORTHWALL BOOTH AT EMERGENCY EXPO
Coulson purchased the C-130 from the Norwegian military and overhauled and converted it into one of the industry's premiere large airtankers
It has a capacity of 4,000 gallons (15,000 liters) and is considered one of the world's most powerful aerial firefighting aircraft due to its range, versatility, and suppression ability per drop.
Western Australia Emergency Services Minister Stephen Dawson warned last month of an unpredictable and potentially devastating bushfire season with bushland primed with undergrowth as a result of heavy rains and climate change.
Coulson's C-130H will be based in Busselton, Western Australia, to support fire suppression efforts throughout the season.
Read Also:

Emergency Live Even More…Live: Download The New Free App Of Your Newspaper For IOS And Android
HEMS / Helicopter Operations Training Today Is A Combination Of Real And Virtual
When Rescue Comes From Above: What Is The Difference Between HEMS And MEDEVAC?
MEDEVAC With Italian Army Helicopters
HEMS And Bird Strike, Helicopter Hit By Crow In UK. Emergency Landing: Windscreen And Rotor Blade Damaged
HEMS In Russia, National Air Ambulance Service Adopts Ansat
Helicopter Rescue And Emergency: The EASA Vade Mecum For Safely Managing A Helicopter Mission
HEMS And MEDEVAC: Anatomic Effects Of Flight
Virtual Reality In The Treatment Of Anxiety: A Pilot Study
US EMS Rescuers To Be Assisted By Paediatricians Through Virtual Reality (VR)
Helicopter Rescue, Europe's Proposal For New Requirements: HEMS Operations According To EASA
HEMS, Swiss Air-Rescue (Rega) Orders 12 New H145 Pentapalas For Its Mountain Bases
Source: