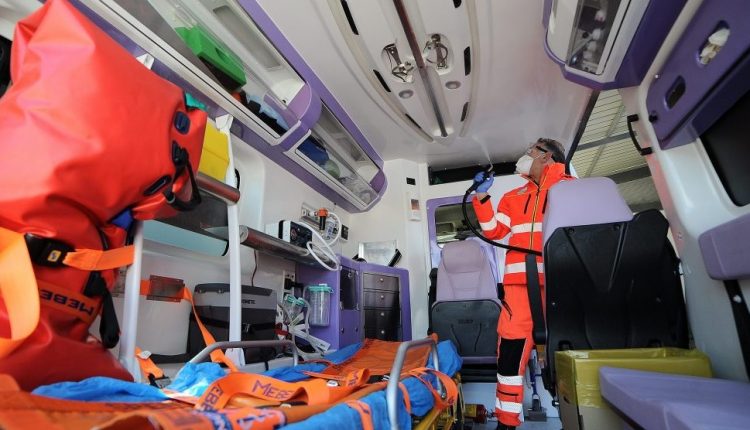 Ambulance: Common Causes of EMS Equipment Failures — and How to Avoid Them
Equipment failures in ambulance: few moments are a bigger nightmare for emergency health care providers than arriving at the scene of a crisis or preparing to attend to an emergency room patient and a vital piece of equipment unexpectedly fails
The precious time spent finding a replacement or coming up with a Plan B is time that many patients cannot afford.
Certainly, having backups and alternative treatment options at-hand is important for providers, but so is avoiding equipment failures in the first place.
Read on for a brief guide to common causes of equipment failures, as well as simple maintenance tips to ensure devices continue working as expected.
STRETCHERS, LUNG VENTILATORS, EVACUATION CHAIRS: SPENCER PRODUCTS ON THE DOUBLE BOOTH AT EMERGENCY EXPO
Common problems leading to equipment failure in ambulances
Batteries and power: 
Sometimes, a failure is as simple as forgetting to change out or charge a battery.
Many devices used in emergency settings are battery-powered, and an increasing amount are rechargeable.
These batteries are convenient — it's nice to not have to manage cords, after all — but neglecting to charge them in the downtime between shifts may render the device ineffective or totally useless.
Low battery in a portable suction device, for example, may affect its suctioning power.
For devices that use traditional batteries, it is necessary to keep replacement batteries close by for easy swapping in the event the batteries fail or are not providing adequate power.
Cleanliness: 
Sanitizing and thoroughly cleaning equipment after use is about more than keeping things hygienic (although that is certainly of utmost importance).
When we fail to do a comprehensive job at these tasks, we run the risk of leaving soil, bodily fluids or particulates on or in areas of a device that can gradually affect its performance or cause a breakdown.
THE IMPORTANCE OF TRAINING IN RESCUE: VISIT THE SQUICCIARINI RESCUE BOOTH AND FIND OUT HOW TO BE PREPARED FOR AN EMERGENCY
Age and manufacturer error: 
We've all heard the old phrase, "They don't make them like they used to," but no matter when a device was manufactured, over time and with heavy use, its performance is likely to suffer and errors are likely to occur.
This is highly variable, of course, but the longer a machine is used, the more likely it is to require repair or replacement.
Sometimes, a machine is simply a "lemon" or has a fatal flaw in its very design.
These are rare circumstances, but unfortunately, they occur.
Human error: 
Elements such as cleanliness or power problems can originate with the user, as can other equipment failures.
It's not uncommon for someone who lacks training with a particular device or is distracted during an emergency to incorrectly use the equipment, potentially leading to damage (among other serious risks to the patient).
CARDIOPROTECTION AND CARDIOPULMONARY RESUSCITATION? VISIT THE EMD112 BOOTH AT EMERGENCY EXPO NOW TO LEARN MORE
Tips for maintaining ambulance equipment
Test and troubleshoot: 
Before every shift for EMS personnel or at regular intervals in an emergency department, it is wise for personnel to test equipment, even if it's just turning on the equipment.
For a suctioning device, for example, ensure it is providing the proper levels of performance.
If not, it's time to troubleshoot (Is the battery charged? Is there an obstruction?) or swap out the device for one that is working correctly.
Use proper accessories: 
Sometimes, a device may not work as effectively if the accessories being used with it are not a match or ideal for a given procedure.
Using our suctioning device example again, certain catheter sizes will not work as well depending on what is being suctioned or the type of patient.
Additionally, accessories from a different manufacturer than the one that built the original equipment may not work as effectively.
Read the manual (and warranties): 
It sounds obvious, but plenty of people ignore reading or at least fully reading product manuals.
They contain valuable information about operating what can be sophisticated devices, as well as troubleshooting information in the event of problems.
And don't ignore another vital piece of paperwork: warranties.
Know what is covered, what isn't and how to contact the manufacturer if it becomes necessary.

Install/assemble correctly: 
This falls under the previous item but deserves its own bullet.
When initially piecing together equipment that requires assembly or installation inside an ambulance or hospital, carefully follow the instructions and check the final work.
Failing to do so can damage the equipment, setting the stage for failure.
These tips are just a start, but by implementing effective maintenance procedures — which are uniformly followed by staff members assigned to those duties — it will go a long way toward decreasing equipment failures.
It will make for a more effective environment for patients and providers alike.
DEFIBRILLATORS, MONITORING DISPLAYS, CHEST COMPRESSION DEVICES: VISIT THE PROGETTI MEDICAL BOOTH AT EMERGENCY EXPO
Read Also
Emergency Live Even More…Live: Download The New Free App Of Your Newspaper For IOS And Android
Spinal Immobilisation Of The Patient: When Should The Spine Board Be Put Aside?
Schanz Collar: Application, Indications And Contraindications
AMBU: The Impact Of Mechanical Ventilation On The Effectiveness Of CPR
Pulmonary Ventilation In Ambulances: Increasing Patient Stay Times, Essential Excellence Responses
Microbial Contamination On Ambulance Surfaces: Published Data And Studies
Is Applying Or Removing A Cervical Collar Dangerous?
Spinal Immobilisation, Cervical Collars And Extrication From Cars: More Harm Than Good. Time For A Change
Cervical Collars : 1-Piece Or 2-Piece Device?
World Rescue Challenge, Extrication Challenge For Teams. Life-Saving Spinal Boards And Cervical Collars
Difference Between AMBU Balloon And Breathing Ball Emergency: Advantages And Disadvantages Of Two Essential Devices
Cervical Collar In Trauma Patients In Emergency Medicine: When To Use It, Why It Is Important
Ambu Bag: Characteristics And How To Use The Self-Expanding Balloon
Difference Between AMBU Balloon And Breathing Ball Emergency: Advantages And Disadvantages Of Two Essential Devices
Manual Ventilation, 5 Things To Keep In Mind
Ambulance: What Is An Emergency Aspirator And When Should It Be Used?
What Is Intravenous Cannulation (IV)? The 15 Steps Of The Procedure
Nasal Cannula For Oxygen Therapy: What It Is, How It Is Made, When To Use It
Ambu Bag, Salvation For Patients With Lack Of Breathing
Supplemental Oxygen: Cylinders And Ventilation Supports In The USA
What Is Intravenous Cannulation (IV)? The 15 Steps Of The Procedure
Nasal Cannula For Oxygen Therapy: What It Is, How It Is Made, When To Use It
Nasal Probe For Oxygen Therapy: What It Is, How It Is Made, When To Use It
Oxygen Reducer: Principle Of Operation, Application
How To Choose Medical Suction Device?
Holter Monitor: How Does It Work And When Is It Needed?
What Is Patient Pressure Management? An Overview
Head Up Tilt Test, How The Test That Investigates The Causes Of Vagal Syncope Works
Suction Unit For Emergency Care, The Solution In A Nutshell: Spencer JET
Airway Management After A Road Accident: An Overview
Source