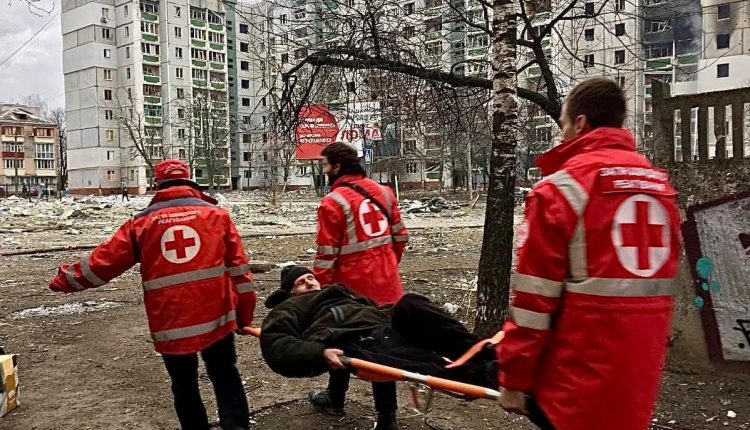 Ukraine, the President of the Italian Red Cross will visit Kiev next week
Kiev, in the programme of the visit of the CRI President Meetings with the Ukrainian Red Cross and project for the construction of housing modules for internally displaced people
The President of the Italian Red Cross, Rosario Valastro, together with a delegation of the Emergency and Relief Area of the CRI, will be in Ukraine next week on a mission to meet the Ukrainian Red Cross to take stock of the aid projects launched such as mobile clinics, the sending of basic necessities, the activity of welcoming Ukrainians in Italy and to coordinate together the forthcoming CRI project to build 120 housing modules for internally displaced persons, 40 in Žytomyr and 80 in Andriivka.
DO YOU WANT TO KNOW MORE ABOUT THE MANY ACTIVITIES OF THE ITALIAN RED CROSS? VISIT THE BOOTH IN EMERGENCY EXPO
The mission of the Italian Red Cross will touch various locations in Ukraine before arriving in Kiev
"The housing module construction project is part of the humanitarian aid actions implemented by the CRI towards Ukraine, also thanks to donations received.
A tender, which will be published on the Consip portal, is starting in these days, which will then see the awarding of the tender and the subsequent implementation of the housing," says Rosario Valastro, President of the Italian Red Cross.
"The mission to Ukraine will also be a way to personally bring to the Ukrainian Red Cross Volunteers our solidarity and our thanks for what they have been doing for over a year, in extremely difficult conditions, in support of their communities, and to share the general picture of the activities supporting the Consip in operations, including logistical ones, in response to the emergency in progress," Valastro concludes.
Read Also
Emergency Live Even More…Live: Download The New Free App Of Your Newspaper For IOS And Android
OCHA (UN Humanitarian Agency): 7 Reasons Why The World Must Keep Supporting Ukraine
Why Become A Mental Health First Aider: Discover This Figure From The Anglo-Saxon World
MSF, "Together We Can Do So Much More": Partnering With Local Organisations In Kharkiv And Throughout Ukraine
Biological And Chemical Agents In Warfare: Knowing And Recognising Them For Appropriate Health Intervention
War And Prisoner Psychopathologies: Stages Of Panic, Collective Violence, Medical Interventions
MSF: Mental Health Needs Grow In Ukraine After 100 Days Of War
Ternopil, Blsd Training For Ukrainian Red Cross Volunteers
Russia-Ukraine International Armed Conflict: ICRC Delivers Medical Aid And Essential Assistance To Kherson And Surrounding Villages
Ukraine Emergency, The Extraordinary Story Of Little Makhar: The Red Cross Story
Ukraine, Red Cross Tips For Citizens To Safeguard Mental Health
Russia, Red Cross Helped 1.6 Million People In 2022: Half A Million Were Refugees And Displaced Persons
Ukraine, Italian Red Cross Efforts For Christmas: New Mission With Ambulances And Humanitarian Aid Underway
Ukraine: ICRC President Meets Authorities, Families Of Prisoners Of War, And Communities Affected By The International Armed Conflict
Ukrainian Crisis: Russian Red Cross Launches Humanitarian Mission For Internally Displaced People From Donbass
Humanitarian Aid For Displaced Persons From Donbass: The RKK Has Opened 42 Collection Points
RKK To Bring 8 Tons Of Humanitarian Aid To Voronezh Region For LDNR Refugees
Ukraine Crisis, RKK Expresses Willingness To Cooperate With Ukrainian Colleagues
Spanish Red Cross Sends 18 Vehicles To Sister Organisations In Ukraine, Hungary And Poland
Ukraine, Red Cross On The Front Line: 'Save The Civilians'
Ukraine, The Italian Red Cross Documentary One Year After The Start Of The Conflict
Ukraine, MSF Teams Treating Patients After Missile Attack On Residential Building In Zaporizhzhia
Source