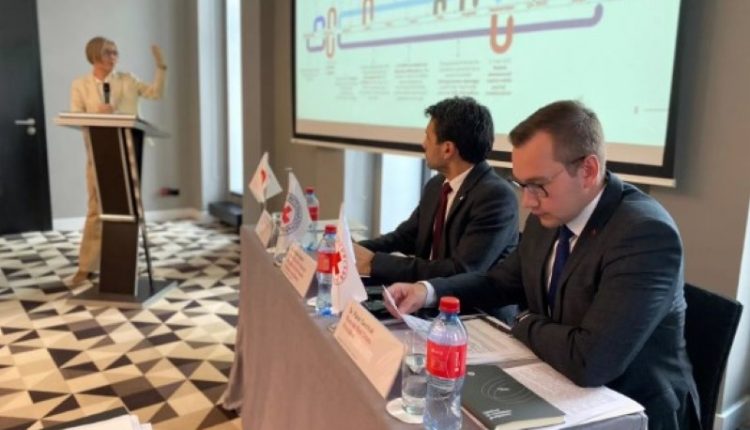 Ukrainian crisis, Russian and European Red Cross plan to expand assistance to victims
The RRC President discusses plans to expand assistance to victims of the Ukrainian crisis with the head of the IFRC European office
Ukrainian crisis, the meeting of Pavel Savchuk and Birgitte Bischoff Ebbesen
Pavel Savchuk, President of the Russian Red Cross (RRC), Russia's oldest humanitarian organization, discussed with Birgitte Bischoff Ebbesen, the IFRC Regional Director for Europe and Central Asia, response measures to the Ukrainian crisis and plans to expand support in 2023 for the affected people.
The RRC President said: "Our main task now is not only to respond to the humanitarian needs caused by the Ukrainian crisis, but also to prevent the current humanitarian situation from worsening."
"It is therefore important to keep in mind that humanitarian diplomacy is an integral part of the work of the IFRC, the International Committee of the Red Cross (ICRC) and all National Societies, including the Russian Red Cross.
We are sincerely grateful to our partners for their support and solidarity with the Russian Red Cross. Last year together we helped more than 640,000 refugees and we will continue to do so," said Pavel Savchuk.
WOULD YOU LIKE TO KNOW MORE ABOUT THE MANY ACTIVITIES OF THE ITALIAN RED CROSS? VISIT THE BOOTH IN EMERGENCY EXPO
During Birgitte Bischoff Ebbesen's visit to Moscow the parties discussed the current humanitarian situation and humanitarian needs, as well as RRC's role in assisting the victims of ukrainian crisis
"We welcome constructive dialogue and joint work with the Russian Red Cross. In 2023, we plan to expand our cash voucher assistance and psychosocial support programs for displaced people throughout Europe, including Russia.
The main task of all members of the International Federation of Red Cross and Red Crescent Societies is to help those who need it most, whoever these people are, wherever they are," said Birgitte Bischoff Ebbesen.
On Wednesday, January 25, a briefing was held in Moscow with diplomatic representatives to the Russian Federation from 18 European and Asia-Pacific countries and North America.
On the side of the International Red Cross and Red Crescent Movement, the RRC President, IFRC Regional Director and Head of the ICRC regional delegation in the Russian Federation and the Republic of Belarus, Ikhtiyar Aslanov, spoke at the briefing.
They discussed preparedness and response to the Ukraine crisis as well as other humanitarian challenges in the Russian Federation and throughout the European region.
Participants talked about support for those affected by the crisis and the results of the year.
Earlier, Mirjana Spolarich, president of the International Committee of the Red Cross (ICRC), visited Moscow.
She had meetings with representatives and leadership of Russian agencies, as well as the RRC.
Read Also
Emergency Live Even More…Live: Download The New Free App Of Your Newspaper For IOS And Android
Russia, Red Cross Helped 1.6 Million People In 2022: Half A Million Were Refugees And Displaced Persons
Territory And Founding Principles In The Future Of The Italian Red Cross: Interview With President Rosario Valastro
Ukrainian Crisis: Russian Red Cross Launches Humanitarian Mission For Internally Displaced People From Donbass
Humanitarian Aid For Displaced Persons From Donbass: The RKK Has Opened 42 Collection Points
RKK To Bring 8 Tons Of Humanitarian Aid To Voronezh Region For LDNR Refugees
Ukraine Crisis, RKK Expresses Willingness To Cooperate With Ukrainian Colleagues
Children Under Bombs: St Petersburg Paediatricians Help Colleagues In Donbass
Russia, A Life For Rescue: The Story Of Sergey Shutov, Ambulance Anaesthetist And Volunteer Firefighter
The Other Side Of The Fighting In Donbass: UNHCR Will Support The RKK For Refugees In Russia
Representatives From The Russian Red Cross, The IFRC And The ICRC Visited The Belgorod Region To Assess The Needs Of Displaced People
Russian Red Cross (RKK) To Train 330,000 Schoolchildren And Students In First Aid
Ukraine Emergency, Russian Red Cross Delivers 60 Tonnes Of Humanitarian Aid To Refugees In Sevastopol, Krasnodar And Simferopol
Donbass: RKK Provided Psychosocial Support To More Than 1,300 Refugees
15 May, The Russian Red Cross Turned 155 Years Old: Here Is Its History
Ukraine: Russian Red Cross Treats Italian Journalist Mattia Sorbi, Injured By A Landmine Near Kherson
Source