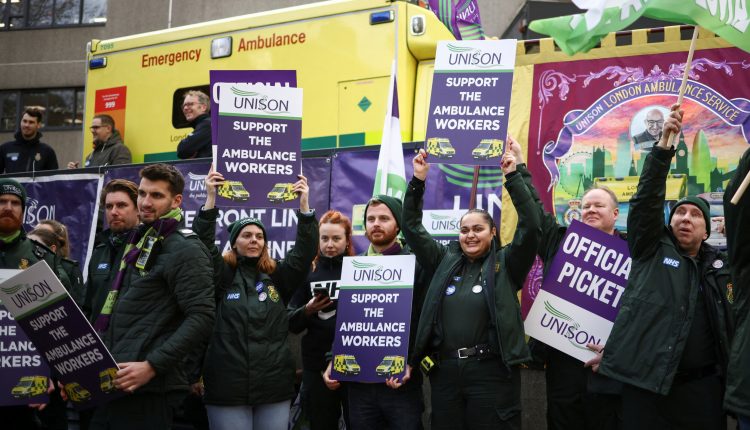 UK, ambulance workers' strike successful: sympathetic population, government in trouble
Political speculation aside, which we shun like the black plague, the ambulance workers' strike was perfectly successful, and found widespread public solidarity
Ambulance workers cross arms, British government in trouble
Normally a strike, especially in the public sector, leads to opposing feelings in public opinion, and there is never a lack of a more or less substantial percentage of citizens complaining about the inconvenience of these industrial actions.
Not so in the UK.
The essential reason seems to be this: the inflation rate is currently 10.1%.
The increase refused to workers did not reach 4%.
Therefore the wage adjustment under discussion was not even half of the increases in the cost of consumer goods that the workers themselves would have bought.
These increases generated widespread popular solidarity, together with the fact that no living Englishman had ever seen a nurse take to the streets: this had never happened in over 100 years.
The same applies to EMT drivers, paramedics and other profiles related to ambulance service.
But Rishi Sunak's Conservative government insists it must stick to modest increases for public sector workers as recommended by independent pay review bodies.
"The best way to help them and help everyone else in the country is for us to get a grip and reduce inflation as quickly as possible," the UK leader said.
Ministers have drafted in 750 military personnel to drive ambulances and perform logistics roles to mitigate the impact of Wednesday's ambulance strike, which has affected almost all areas of England and Wales.
Despite the government's insistence that it will not negotiate, polls indicate most people support nurses – and to a lesser extent other workers – walking out.
Responding to the first day of ambulance workers strikes, Matthew Taylor chief executive of the NHS Confederation, said
"Along with the intensive preparations undertaken by local NHS services, with support from the military, independent and voluntary sectors, the public's support has been invaluable in managing the events of today. NHS leaders up and down the country will be incredibly grateful for the on-going support from the public when it came to using ambulances and other urgent and emergency care services in line with advice.
"As expected, the picture has been mixed across the country and we know some ambulance services continue to experience significant delays in handing over patients to hospital. This is a long-standing issue – even before today's strike began 5 of 9 ambulance trusts had declared critical incidents. The average waiting time for category 1 calls is now 9 minutes and 56 seconds against a target of 7 minutes and over an hour for category 2 calls against the target of 18 minutes.
NHS leaders have been working hard to improve these waiting times that have led to many ambulance staff feeling very frustrated and have contributed to today's industrial action. Today, the NHS has pulled out all the stops to ensure that urgent and life-saving care were prioritised but it is simply not sustainable to undertake these efforts every day.
"No health leader wanted to be in this situation in the first place and the strikes could have been avoided had the government attempted to genuinely engage with trade unions about pay. The worry is that this is just the start, and that the full impact of today's strike, along with the first two nursing strikes, will not just be felt today but also in the days and weeks to come. Their fear is that the risk to patients will intensify with future strikes planned and no sign of resolution to the disputes.
"In arguably the most tumultuous winter for health this country has faced, the government must reach an agreement with trade unions, we cannot afford to let this drift into a prolonged winter of industrial action and a disruptive war of attrition. With over 11,500 staff striking in the RCN's second day of industrial action, resulting in over 2,100 elective operations and 11,600 outpatient appointments being postponed, patients, NHS leaders and the wider workforce need a step-change in the dialogue on pay and working conditions to date.

"As in yesterday's letter to the Prime Minister we once again urge him to negotiate on the substantive issue of pay awards, in order to avert planned and future strikes. We continue to repeat our message to trade unions that a national resolution is needed as swiftly as possible."
Interviews with UK ambulance workers
Read Also
Emergency Live Even More…Live: Download The New Free App Of Your Newspaper For IOS And Android
England, NHS Tries To Curb Problems Over Dec. 21 Ambulance Strike
UK Ambulance Staff Strike Tomorrow: NHS Warnings To Citizens
Germany, Survey Among Rescuers: 39% Would Prefer To Leave The Emergency Services
US Ambulance: What Are The Advanced Directives And What Is The Behavior Of Rescuers With Respect To "End Of Life"
UK Ambulances, Guardian Investigation: 'Signs Of NHS System Collapse'
HEMS, How Helicopter Rescue Works In Russia: An Analysis Five Years After The Creation Of The All-Russian Medical Aviation Squadron
Rescue In The World: What Is The Difference Between An EMT And A Paramedic?
EMT, Which Roles And Functions In Palestine? What Salary?
EMTs In The UK: What Does Their Work Consist Of?
Russia, Urals' Ambulance Workers Rebelled Against Low Wages
How To Decontaminate And Clean The Ambulance Properly?
Ambulance Disinfection Using A Compact Atmospheric Plasma Device: A Study From Germany
Digitalisation And Healthcare Transport: Discover Galileo Ambulanze At The Italsi Booth In Emergency Expo
Source