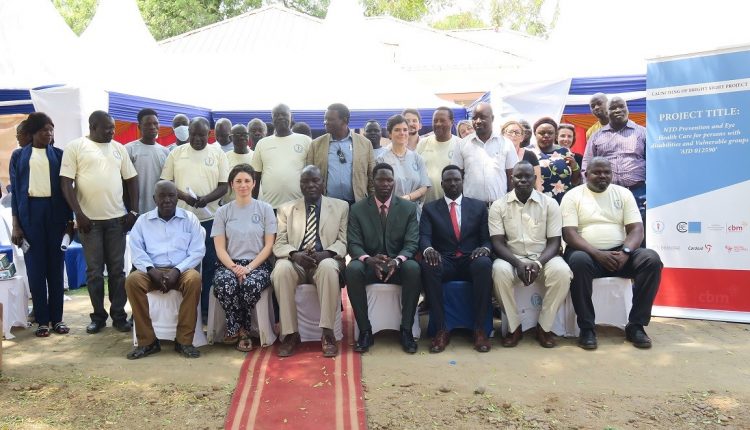 CBM Italy, CUAMM and CORDAID Build South Sudan's First Paediatric Eye Department
The new unit was created within the BEC, South Sudan's first eye centre in Juba, which CBM started in 2015
The project as a whole plans to treat over 90,000 patients in three years.
Work has begun on the construction of the first paediatric eye department in South Sudan, a state in the centre-east of Africa that is among the poorest in the world
The Bright Sight – literally 'bright sight' – is the name of the cooperation project led by CBM Italy, in collaboration with the NGOs CUAMM and CORDAID, with the support of the AICS (Italian Agency for Development Cooperation) and the participation of the South Sudanese Ministry of Health.
Until now, the fate of South Sudanese children in need of eye care has been to be sent to distant hospitals in neighbouring states or to become permanently blind.
With the new project, aimed in particular at the most fragile groups of the population and people with disabilities, the plan is to construct the building – at the Buluk Eye Centre (BEC), the country's first eye centre, which CBM started in 2015 in Juba -, purchase furniture and equipment, and also train medical staff and set up mobile eye clinics in three years.
The project's objectives also include strengthening in the most vulnerable communities practices for the prevention of Neglected Tropical Diseases (infectious diseases that affect those living in poverty, such as trachoma and onchocerciasis), strengthening outreach health services with the widespread distribution of inclusive and accessible eye care services, treatment of complex diseases and rehabilitation activities.
CHILD HEALTH: LEARN MORE ABOUT MEDICHILD BY VISITING THE BOOTH AT EMERGENCY EXPO

South Sudan, the project aims to treat over 90,000 patients in three years
"Bringing quality care to improve the lives of thousands of people: this is why we are here today, because all of us together can make this dream a reality," commented Massimo Maggio, director of CBM Italy.
"We started working in South Sudan 20 years ago, again in collaboration with the Ministry of Health, with the aim of strengthening eye care services in the country, and we have never stopped since.
In fact, we believe that eye health is a right for everyone, and especially for children: this new centre is dedicated to them, because they are the future".
CBM was the first organisation to bring eye care to South Sudan
The first project dates back to 2003, dedicated to the treatment of onchocerciasis (a neglected disease also known as river blindness).
From 2008 to 2014, CBM started a specialist training programme for medical and health personnel in the country.
2015 marked the most important step: the opening of South Sudan's first eye centre, the Buluk Eye Centre (BEC), which has since been helping to reduce avoidable blindness in Jubek State (one of the ten states that make up South Sudan and whose capital is Juba, also the central capital of the country) by providing functioning, quality eye care services, both at the BEC and in schools and displaced persons' camps.
Projects united by a single vision: to offer eye health services that are integrated into the National Health System, inclusive (accessible to all, especially the most fragile) and comprehensive (with complete patient care: from prevention to treatment and rehabilitation).
The statement of Dr. Malek, Director General at the Ministry of National Health of the Republic of South Sudan, present at the opening ceremony: "The name Buluk Eye Centre resonates throughout the country.
With the expansion of the coverage of eye care services and the inclusion of new specialities, such as diabetic retinopathy and paediatric ophthalmology, we will no longer have to go to Uganda, Kenya, Sudan or other countries.
The South Sudanese population will be treated in their own country'.
Some figures describing extreme poverty in South Sudan
4 out of 5 people live below the poverty line; only 35% of the population has access to safe drinking water; 2.4 million children are excluded from basic education (source: Humanitarian Needs Overview 2021 "; UNOCHA and Humanitarian Country Team; January 2021).
The prevalence of visual impairment in South Sudan is high, yet 80 per cent of cases are preventable.
If left undiagnosed and untreated, the most severe diseases can lead to blindness, contributing to the vicious cycle linking poverty and disability.
The main causes of blindness are undiagnosed and untreated diseases such as cataracts and neglected tropical diseases such as trachoma and onchocerciasis.
Other diseases present are glaucoma, refractive errors, and childhood blindness.
Read Also
Emergency Live Even More…Live: Download The New Free App Of Your Newspaper For IOS And Android
About Eyesight / Nearsightedness, Strabismus And 'Lazy Eye': First Visit As Early As 3 Years Old To Take Care Of Your Child's Vision
Blepharoptosis: Getting To Know Eyelid Drooping
Lazy Eye: How To Recognise And Treat Amblyopia?
Amblyopia And Strabismus: What They Are And How They Affect A Child's Life

Reddening Of The Eyes: What Diseases Are Linked To Eye Redness?
Red Eyes: What Can Be The Causes Of Conjunctival Hyperemia?
Autoimmune Diseases: The Sand In The Eyes Of Sjögren's Syndrome
How To Prevent Dry Eyes During Winter: Tips
Corneal Abrasions And Foreign Bodies In The Eye: What To Do? Diagnosis And Treatment
Covid, A 'Mask' For The Eyes Thanks To Ozone Gel: An Ophthalmic Gel Under Study
Dry Eyes In Winter: What Causes Dry Eye In This Season?
What Is Aberrometry? Discovering The Aberrations Of The Eye
Stye Or Chalazion? The Differences Between These Two Eye Diseases
Eye For Health: Cataract Surgery With Intraocular Lenses To Correct Visual Defects
Cataract: Symptoms, Causes And Intervention
Inflammations Of The Eye: Uveitis
Corneal Keratoconus, Corneal Cross-Linking UVA Treatment
Myopia: What It Is And How To Treat It
Presbyopia: What Are The Symptoms And How To Correct It
Nearsightedness: What It Myopia And How To Correct It
About Eyesight / Nearsightedness, Strabismus And 'Lazy Eye': First Visit As Early As 3 Years Old To Take Care Of Your Child's Vision
Blepharoptosis: Getting To Know Eyelid Drooping
Lazy Eye: How To Recognise And Treat Amblyopia?
What Is Presbyopia And When Does It Occur?
Presbyopia: An Age-Related Visual Disorder
Blepharoptosis: Getting To Know Eyelid Drooping
Rare Diseases: Von Hippel-Lindau Syndrome
Rare Diseases: Septo-Optic Dysplasia
Diseases Of The Cornea: Keratitis
Heart Attack, Prediction And Prevention Thanks To Retinal Vessels And Artificial Intelligence
Eye Care And Prevention: Why It Is Important To Have An Eye Examination
Dry Eye Syndrome: Symptoms, Causes And Remedies
Maculopathy: Symptoms And How To Treat It
Dry Eye Syndrome: How To Protect Your Eyes From PC Exposure
Amblyopia: What Lazy Eye Syndrome Consists Of
Source