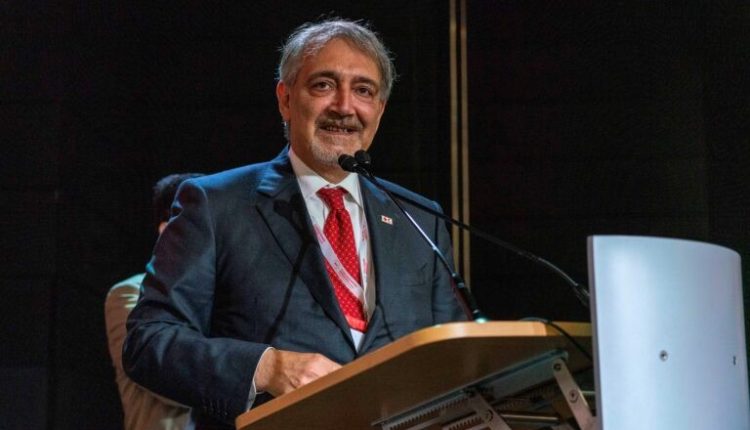 Francesco Rocca re-elected President of the International Federation of Red Cross and Red Crescent Societies for the second time
Francesco Rocca, a 56-year-old lawyer from Rome and president of the Italian Red Cross, was re-elected today with 122 votes to head the world's largest humanitarian organisation
With 122 votes, Francesco Rocca won his second four-year term as President of the International Federation of Red Cross and Red Crescent Societies (IFRC)
Elected 4 years ago in Antalya (Turkey), the first Italian in the history of the Red Cross to hold this important position, he was reconfirmed today in Geneva, during the 23rd IFRC General Assembly, by the representatives of 192 National Red Cross and Red Crescent Societies.
Rocca is currently also President of the Italian Red Cross.
DO YOU WANT TO KNOW MORE ABOUT THE MANY ACTIVITIES OF THE ITALIAN RED CROSS? VISIT THE BOOTH AT EMERGENCY EXPO
Francesco Rocca re-elected IFRC President: "I dedicate this victory to each and every volunteer
"We are living in extremely difficult times," Rocca commented after the proclamation, "in which the most complex crises reverberate globally: economic instability, food shortages, health emergencies and climate crisis have overlapped, defining unprecedented risks for the world.
I am very proud to take up this challenge together with our 14 million Red Cross and Red Crescent volunteers.
This confirmation is a tribute to their hard work, resilience and ability to cope with all kinds of emergencies.
I therefore dedicate today's victory to every single volunteer who is serving the community right now."
Addressing the growing humanitarian impact of the climate crisis, reducing health inequalities, and supporting and protecting migrants.
These are the three priorities listed in the Swiss gathering by the new IFRC president. Rocca urged the international community to put global solidarity first and translate it into action: "When there is political will, open dialogue and multilateral decisions, anything is possible.
The political and collective response to the Ukraine crisis has shown what can be done when humanity and dignity come first, when there is the will to assist and protect people'.
Rocca also praised the role of localisation in the humanitarian response, pledging to continue to invest in it: 'The pandemic has shown the world the crucial role played by local actors, such as our Red Cross and Red Crescent volunteers, in responding to crises.
This is why localising humanitarian aid is the most effective way to save lives and build safer, stronger and healthier communities'.

Re-election of Francesco Rocca: the IFRC president's role is a volunteer one
Rocca began volunteering in the late 1980s, working with asylum seekers and refugees in Italy.
He joined the Italian Red Cross in 2007 and was first elected CRI National President in 2013.
Today he is in his third term. At the IFRC, Rocca was previously a member of the Board of Directors and Vice-President for Europe.
As a lawyer, he began his professional career fighting organised crime.
He later switched to health administration.
Read Also:
Emergency Live Even More…Live: Download The New Free App Of Your Newspaper For IOS And Android
Red Cross, Interview With Francesco Rocca: "During COVID-19 I Felt My Fragility"
Anniversary Of The First International Conference In Geneva: Rocca: "We Humanitarians Must Mobilise Ourselves As Dunant Did"
Global Emergencies, IFRC President Rocca Meets Russia's President Putin
Ukraine, A New Italian Red Cross Convoy Leaves. Rocca: 'We Will Also Bring Fragile Children To Italy'
Ternopil, Blsd Training For Ukrainian Red Cross Volunteers
15 May, The Russian Red Cross Turned 155 Years Old: Here Is Its History
Source: