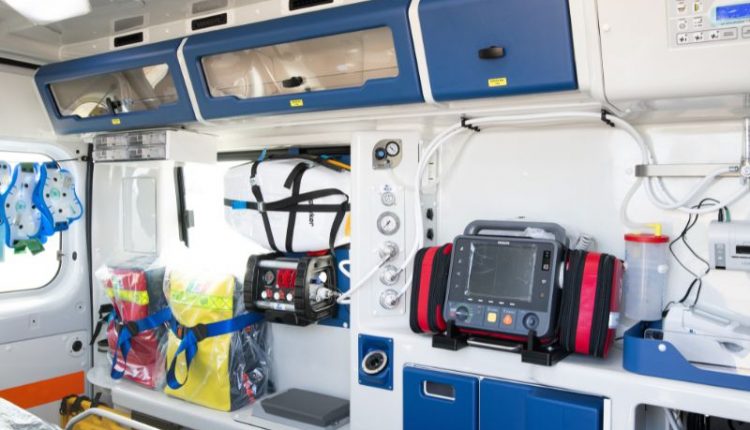 Focaccia Group: first ambulance of a fleet delivered to Sanitaservice
Focaccia delivers a first new ambulance to Sanitaservice Srl: the vehicles will be equipped with the FG MICRO H2O2 sanitising system developed by the company
Focaccia Group delivers the first ambulance of a new fleet to Sanitaservice Srl, the Brindisi-based company in which ASL (local health authority) has a stake
The rescue vehicle is the first of 35 acquired by the company through a public tender.
In the same competition, Sanitaservice also acquired seven ambulances.
The new vehicles will be used in the ambulance stations and first intervention points of the 118 Emergency Service located in the province of Brindisi.
The delivery of the other ambulances, which will be individually tested, is scheduled to take place in the next few days.
In addition, training courses have been started for the personnel who will work on board the new vehicles.
Thanks to the new ambulances on their way, 198 drivers/rescue workers and 165 rescue workers will be employed.
These are workers currently belonging to contracted associations who will become employees of Sanitaservice as of 1 January 2023.
"Sanitaservice is a great reality of our territory," said the sole administrator Maria Rosa Di Leo, "dynamic and flexible, which is now able to offer the Brindisi local health authority numerous services such as assistance to people and health support.
"Now, finally," Di Leo concludes, "the 118 transport service is also entrusted directly to our company: the aim is to guarantee an increasingly efficient response."

Focaccia Group, sanitising the sanitary compartment as a health garrison for patient and rescuer
The 35 incoming ambulances are fitted with equipment that improves the quality of the service.
Starting with a sanitising system designed and built in-house at the Focaccia Group, which by saturation sanitises both the driver's compartment and the sanitary compartment.
The advantage of the latter is that it can be activated without the need for the vehicle to return to base, with a considerable time and labour advantage.
In addition, the air conditioning system has an antibacterial filter based on photocatalytic technology.
The vehicles, for their part, are equipped with a mechanical chest compression system, which makes it possible to overcome the difficulties of manual compression for patients who need it.
Finally, there is a motorised ascending chair in each vehicle.
The ambulances are also equipped according to more functional criteria and are fitted with systems for paediatric immobilisation and transport.
Sanitaservice has signed a contract with the supplier company that provides for the coverage of all incidental costs and risks: from ordinary and extraordinary maintenance to the provision of replacement vehicles in the event of breakdown.
Read Also:
Emergency Live Even More…Live: Download The New Free App Of Your Newspaper For IOS And Android
Focaccia Group At REAS 2022: The New Sanitization System For The Ambulances
Vapourised Hydrogen Peroxide: Why It Is So Important In Sanitary Disinfection Processes
Focaccia Group. A Story That Has Always Looked To The Future!
Sanitising Ambulances, A Study By Italian Researchers On The Use Of Ultraviolet Rays
Focaccia Group Enters The World Of Ambulances And Proposes An Innovative Sanitisation Solution
Scotland, University Of Edinburgh Researchers Develop Microwave Ambulance Sterilisation Process
Ambulance Disinfection Using A Compact Atmospheric Plasma Device: A Study From Germany
How To Decontaminate And Clean The Ambulance Properly?
Automotive Dealer Day 2022: A Future That Also Concerns Emergencies

Cold Plasma To Sanitize Common Facilities? The University Of Bologna Announced This New Creation To Reduce COVID-19 Infections
Preoperative Phase: What You Should Know Before Surgery
Sterilization With Hydrogen Peroxide: What It Consists Of And What Advantages It Brings
Integrated Operating Rooms: What An Integrated Operating Room Is And What Advantages It Offers
FG MICRO H2O2: Focaccia Group Launches The New System For The Disinfection Of Ambulances
Difference Between Mechanical Ventilation And Oxygen Therapy
Hyperbaric Oxygen In The Wound Healing Process
Venous Thrombosis: From Symptoms To New Drugs
Prehospital Intravenous Access And Fluid Resuscitation In Severe Sepsis: An Observational Cohort Study
What Is Intravenous Cannulation (IV)? The 15 Steps Of The Procedure
Nasal Cannula For Oxygen Therapy: What It Is, How It Is Made, When To Use It
Nasal Probe For Oxygen Therapy: What It Is, How It Is Made, When To Use It
Oxygen Reducer: Principle Of Operation, Application
How To Choose Medical Suction Device?
The Purpose Of Suctioning Patients During Sedation
Supplemental Oxygen: Cylinders And Ventilation Supports In The USA
Basic Airway Assessment: An Overview
Respiratory Distress: What Are The Signs Of Respiratory Distress In Newborns?
EDU: Directional Tip Suction Catheter
Suction Unit For Emergency Care, The Solution In A Nutshell: Spencer JET
Airway Management After A Road Accident: An Overview
Tracheal Intubation: When, How And Why To Create An Artificial Airway For The Patient
What Is Transient Tachypnoea Of The Newborn, Or Neonatal Wet Lung Syndrome?
Traumatic Pneumothorax: Symptoms, Diagnosis And Treatment
Diagnosis Of Tension Pneumothorax In The Field: Suction Or Blowing?
Ambulance: What Is An Emergency Aspirator And When Should It Be Used?
How To Conduct Antihypertensive Treatment? An Overview Of Drugs
Aetiological Classification Of Hypertension
Classification Of Hypertension According To Organ Damage
Source: