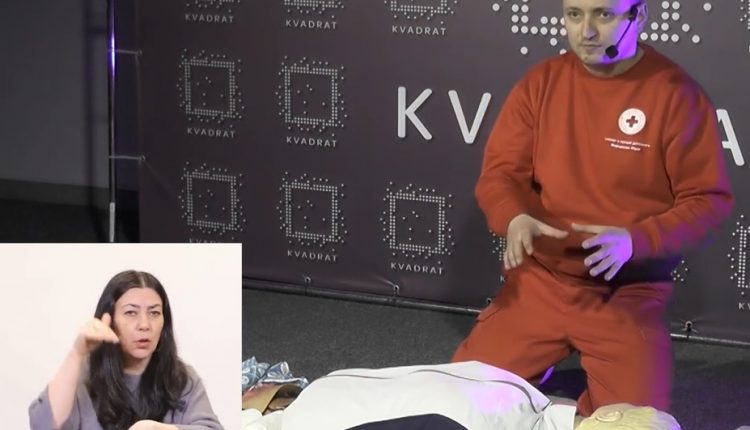 War in Ukraine, in Vinnytsia Red Cross and other rescue organisations hold a video lesson on home healthcare
In Vinnytsia, the Red Cross and other relief organisations held a video lesson on home health care
In Vinnytsia, paramedics together with a representative of the Chyrvoniy Khrest conducted a video lecture on providing medical assistance at home
The information it contains can help improve the lives of, for example, those who have fallen under fire from occupiers.
This is reported on the website of the Main Department of the State Fiscal Service in Vinnytsia region.
"Together with Chernitsky Khrest trainer Yuriy Martsenyuk and sign language interpreter Svitlana Zaborovska we gave a short lecture on how to provide rapid medical help at home and save the lives of those who were attacked. We must do everything we can!" the statement reads.
The video teaches, among other things, how to recognise a person's condition and how to begin medical aid: recognising whether the person is convalescing, whether they are breathing, how to summon an ambulance in the most productive way, how to perform indirect cardiac massage, stop bleeding, etc.
Vinnytsia (Ukraine), the video published:
Read Also:

Emergency Live Even More…Live: Download The New Free App Of Your Newspaper For IOS And Android
Ukraine, Russian Bombardment Hits Hospital: Four Dead And Ten Wounded. Martial Law In Force
Ukraine Crisis, Firefighters Working Across Kiev To Put Out Bombing Fires
Rescue Workers Under The Bombs: Search Continues For Possible Victims In The Destroyed Building In Kiev
Invasion Of Ukraine: Ambulances Patrol The Streets In The Lviv Region In The Absence Of Communications
Childrens Of War: Kiev's Children Born In The Air Raid Shelter Of The Hospital Or The Metro
Ukraine Like Solferino: The Kiev Government Asks The Red Cross To Help Remove The Bodies Of Russian Soldiers
Source: