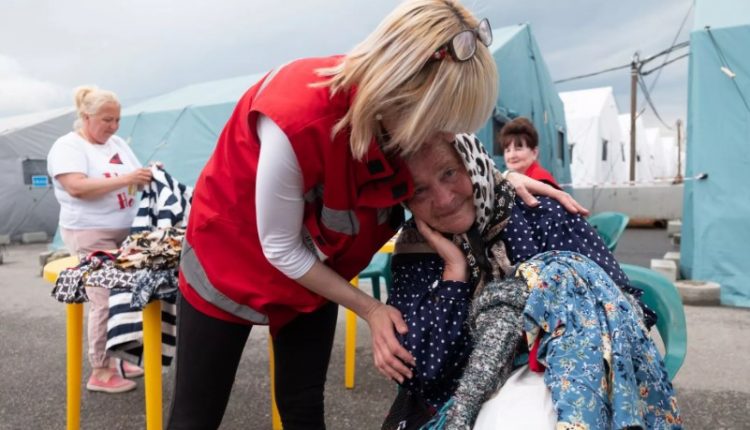 Nearly 400,000 victims of the Ukrainian crisis received humanitarian aid from the Russian Red Cross
More than 396,000 people affected by the Ukrainian crisis have received humanitarian aid from the Russian Red Cross (RKK), Russia's oldest humanitarian organisation, since 18 February 2022
More than 68,000 people have received material payments and more than 65,000 have contacted the unique RKK hotline.
WOULD YOU LIKE TO KNOW MORE ABOUT THE MANY ACTIVITIES OF THE ITALIAN RED CROSS? VISIT THE BOOTH IN EMERGENCY EXPO
In total, 646,395 people have received assistance and support from the Russian Red Cross since the beginning of the Ukrainian crisis
"We have accumulated all our resources not to help people once, but to immerse ourselves in their problems, identify their needs, help them socialise in new conditions, understand how and in what else we can help.
We have seen a great demand for psychological support and this year we intend to strengthen this direction.
Since February of last year, 400,000 victims of the Ukrainian crisis have received humanitarian aid from us, and we are talking about humanitarian aid: things, food, rehabilitation equipment, and so on.
More than 21,000 more people received psychosocial support from us and in total, we helped more than 650,000 people in the Ukrainian crisis,' said Pavel Savchuk , president of the Russian Red Cross .
Ukrainian crisis, most applicants needed humanitarian assistance
More than 396,000 people received hygiene and basic necessities, food and clothing.
More than 91,000 people received vouchers for grocery shops, pharmacies and clothing shops and more than 68,000 received material payments of between five and 15 thousand roubles.
In addition, during the year of operation of the unified hotline of the Russian Red Cross (tel. 8 800 700 44 50), more than 65.6 thousand people turned to it. They received psychological first aid, legal advice and help in reuniting family ties.
In total, RKK specialists, working together with the ICRC and the Central Tracing Agency, managed to find 105 people.
In the summer, the Russian Red Cross opened a mobile assistance centre in the Belgorod region for people affected by the Ukrainian crisis.
Since July, 3,661 people have been assisted.
A similar mobile assistance centre is scheduled to open in the Rostov region in March 2023
"The Russian Red Cross was the first organisation to open such mobile points in our country.
In them, people can apply for marriage to the RKK and leave an application for the restoration of family ties, as well as receive initial psychological help and psychosocial support," said Pavel Savchuk.
Read Also

Emergency Live Even More…Live: Download The New Free App Of Your Newspaper For IOS And Android
Ukrainian Crisis, Russian And European Red Cross Plan To Expand Assistance To Victims
Russia, Red Cross Helped 1.6 Million People In 2022: Half A Million Were Refugees And Displaced Persons
Territory And Founding Principles In The Future Of The Italian Red Cross: Interview With President Rosario Valastro
Ukrainian Crisis: Russian Red Cross Launches Humanitarian Mission For Internally Displaced People From Donbass
Humanitarian Aid For Displaced Persons From Donbass: The RKK Has Opened 42 Collection Points
RKK To Bring 8 Tons Of Humanitarian Aid To Voronezh Region For LDNR Refugees
Ukraine Crisis, RKK Expresses Willingness To Cooperate With Ukrainian Colleagues
Children Under Bombs: St Petersburg Paediatricians Help Colleagues In Donbass
Russia, A Life For Rescue: The Story Of Sergey Shutov, Ambulance Anaesthetist And Volunteer Firefighter
The Other Side Of The Fighting In Donbass: UNHCR Will Support The RKK For Refugees In Russia
Representatives From The Russian Red Cross, The IFRC And The ICRC Visited The Belgorod Region To Assess The Needs Of Displaced People
Russian Red Cross (RKK) To Train 330,000 Schoolchildren And Students In First Aid
Ukraine Emergency, Russian Red Cross Delivers 60 Tonnes Of Humanitarian Aid To Refugees In Sevastopol, Krasnodar And Simferopol
Donbass: RKK Provided Psychosocial Support To More Than 1,300 Refugees
15 May, The Russian Red Cross Turned 155 Years Old: Here Is Its History
Ukraine: Russian Red Cross Treats Italian Journalist Mattia Sorbi, Injured By A Landmine Near Kherson
Source